Heather Heyer's Family Made A Surprising Decision About Her Funeral Today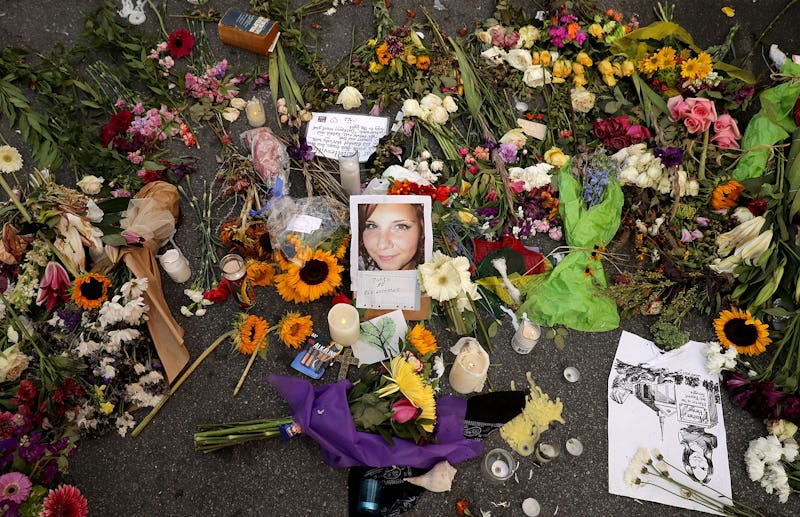 Chip Somodevilla/Getty Images News/Getty Images
On Wednesday morning at 11 a.m., mourners will gather to celebrate the life of Charlottesville victim Heather Heyer in a funeral ceremony open to the public. Heyer was killed on Saturday when a dispute between white supremacists and counter-protestors spiraled out of control and an alleged white supremacist reportedly slammed a car into a crowd of counter-protestors, including Heyer. "I miss her so, so much, but I'm going to make her death worth something," Susan Bro, Heyer's mother, said, according to TIME.
Those who knew Heyer, who was 32 at the time of her death, described her as a passionate and caring, with a keen sense of justice. "She's very compassionate, she's very precise, got a big heart, she wants to make sure that things are right. She cares about the people that we take care of. She's just a great person," said Larry Miller, Heyer's manager at the firm where she was a paralegal.
"She was very strong in what she felt and she spoke with conviction," Heyer's co-worker Marissa Blair told CNN. "She would never back down from what she believed in. And that's what she died doing, she died fighting for what she believed in. Heather was a sweet, sweet soul and she'll never be replaced, she'll never be forgotten."
President Donald Trump, in addressing the Charlottesville violence, described Heyer as "an incredible young woman" on Tuesday. The president followed up his remarks regarding Heyer with a tweet on Wednesday. "Memorial service today for beautiful and incredible Heather Heyer, a truly special young woman. She will be long remembered by all!"
Heyer was killed by a car allegedly driven by James A. Fields Jr., a supposed white supremacist who was attending the so-called "Unite the Right" rally in Charlottesville in order to demonstrate against the removal of a monument depicting Confederate General Robert E. Lee. Fields Jr. has been arrested by police and faces second-degree murder charges. The incident has become a flashpoint in American politics, with some such as North Carolina Gov. Roy Cooper calling for the removal of Confederate statues while others such as President Trump defending them as an important part of American history.
According to Bro, Heyer's mother, mourners have been asked to wear purple as it was her daughter's favorite color. Bro told ABC News that she doesn't want "more hate brought by my daughter's death. ... I want peace that she would want. I want change. I want equality. I want fairness, and I want it done peacefully."