Here's When You Can Expect Some Answers In The Facebook Data Scandal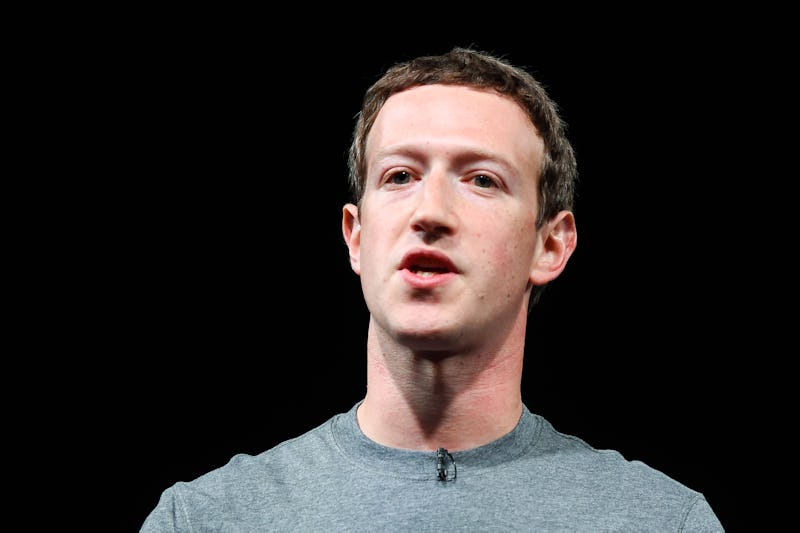 David Ramos/Getty Images News/Getty Images
As pressure mounts for Facebook to answer questions about a company that worked on Donald Trump's campaign accessing data from 50 million of its users without permission, the CEO of the tech giant has agreed to testify on Capitol Hill, CNN reports. Multiple lawmakers have asked Mark Zuckerberg to attend congressional hearings surrounding data and online privacy. However, when Zuckerberg is testifying before Congress remains up in the air.
A British whistleblower who worked for Cambridge Analytica, a data firm believed to have helped elect President Trump, told The New York Times and The Guardian earlier this month that the company had access to the personal data of millions of Facebook users. Cambridge Analytica said it deleted the information after learning that data had been obtained by a contractor by violating Facebook's terms of service.
The reports called into question just how much the tech company is actually doing to protect users' data, and lawmakers may get some answers from Zuckerberg once Congress is back in session in two weeks. Members of the House Energy and Commerce Committee said in a letter sent on Friday that its hearing "will examine the harvesting and sale of personal information from more than 50 million Facebook users, potentially without their notice or consent and in violation of Facebook policy."
Senate Judiciary Chairman Chuck Grassley also invited Zuckerberg to testify at an April 10 hearing on data privacy, alongside the CEOs of Google and Twitter, Sundar Pichai and Jack Dorsey. Sources within Facebook told CNN they believe Zuckerberg's testimony will pressure those other tech leaders to do the same. It's unclear which hearing Zuckerberg plans to attend, however.
Zuckerberg has never testified before Congress before. Last week, he told CNN he would head to Capitol Hill if he felt he was the right person to answer lawmakers' questions. "What we try to do is send the person at Facebook who will have the most knowledge," Zuckerberg told CNN. "If that's me, then I am happy to go."
Facebook suspended Cambridge Analytica's account after reports of the data leak emerged, and Zuckerberg posted a lengthy response to the scandal on Facebook. He wrote:
"I've been working to understand exactly what happened and how to make sure this doesn't happen again. The good news is that the most important actions to prevent this from happening again today we have already taken years ago. But we also made mistakes, there's more to do, and we need to step up and do it."
The post also revealed that Facebook first learned that Cambridge Analytica may have wrongfully accessed users' data in 2015, calling it "a breach of trust." Zuckerberg said Facebook plans to investigate apps that had access to large amounts of information prior to 2014, when new restrictions were put in place; restrict developers' access to data; and place a tool at the top of the News Feed to show users which apps they've given permission to use their personal information.
Writers for The Atlantic and The Financial Times have since asked why Facebook didn't take more action — and why it took so long to act in the first place. Sandy Parakilas, a former employee at Facebook, told The Guardian he warned Facebook executives that a data breach was likely six years ago.
"My concerns were that all of the data that left Facebook servers to developers could not be monitored by Facebook, so we had no idea what developers were doing with the data," Parakilas told The Guardian.
The Federal Trade Commission (FTC) confirmed on Monday that it opened an investigation into Facebook's data practices following reports of the Cambridge Analytica breach. The FTC said in a statement that it "takes very seriously recent press reports raising substantial concerns" about the company.