Olivia Colman, Emma Stone & Joe Alwyn's Major New Film May Back The Former An Oscar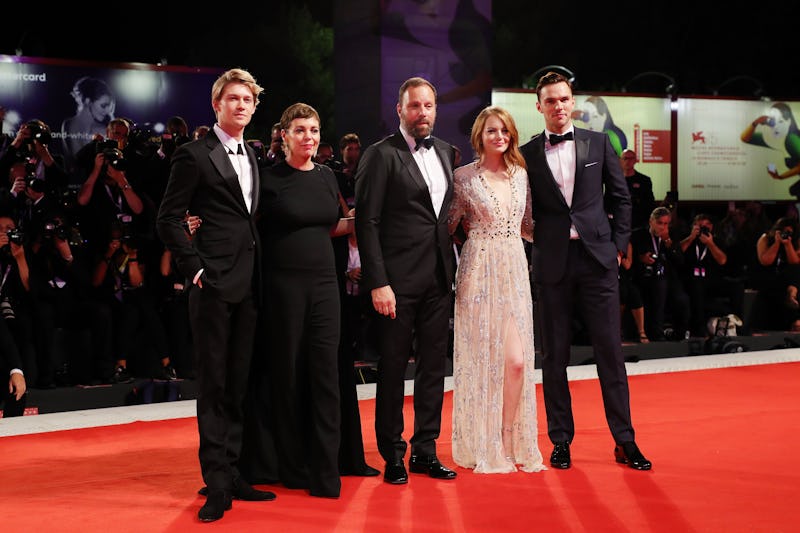 Vittorio Zunino Celotto/Getty Images Entertainment/Getty Images
Yorgos Lanthimos — who you might know best as the director of The Lobster — has made a film that's had critics awestruck. While The Lobster divided opinions, his new film The Favourite seems to have everyone in agreement. This is the film to be reckoned with next award season. The Favourite follows the reign of Queen Anne, as played by Olivia Colman, and spans 1702-1714, making it Lanthimos' first period drama. It premiered at Venice Film Festival on Aug. 30, and will be released in cinemas in early 2019. Given the critical buzz around the dark comedy, I'm sure you're wondering when is The Favourite out in the UK?
You'll get to see the film for yourself on Oct. 18 at BFI's Film Festival, which you can buy tickets for here, as they go on sale from 10 a.m. on Sept. 13. But if you miss that, you'll have to wait until Jan. 1 for the film's public release. But while that might seem a bit of a wait, it's nothing compared to the time it took to get the story to the big screen. The film's co-producer Ceci Dempsey told The Evening Standard that the script had been in development for around 20 years. But it seems like the world is finally ready for The Favourite and its stereotype-busting storyline. "Twenty years ago it was, no, no, we don't do period films, lesbians, no, no — times have moved on with the script," Dempsey said.
It's groundbreaking approach to historical drama isn't the only reason you should see the film, it also sees Colman give a performance that wowed the critics, and just might see her bag an Oscar. "Olivia Colman delivers an enormous incendiary performance," the Telegraph's Kevin Maher said in his review of The Favourite, and it seems like that opinion was shared unanimously by its audience at Venice Film Festival. And it's about time. The world is finally in agreement that Olivia Colman is the absolute best, even though us Brits knew that already. Still, it feels a bit emotional to see her getting properly recognised for her talent. She won Best Actress at the festival for her portrayal of Queen Anne, which naturally puts her in the battle for next year's Oscar season. Maybe I'm getting ahead of myself here but "Oscar-winner Olivia Colman" just sounds so right.
The film focuses on Queen Anne's relationship to her childhood friend, Sarah Churchill, the first Duchess of Marlborough, who's played by Rachel Weisz. Churchill governs the country alongside Anne, but the pair begin to clash over Churchill's imperious demands. As Anne takes a charm to Abigail, the new servant girl, as played by Emma Stone, her childhood friend is replaced. But Churchill takes Abigail under her wing, and uses her as a way to get back to her aristocratic roots while an ailing Anne becomes frailer and frailer.
If I were you I'd get buying those BFI tickets, and if you miss out, at least you can still look forward to a career best performer from Colman, and what might well be the film of 2019 in just a few short months.