This Year's 'Apprentice' Final Could Majorly Disrupt Your Christmas Party Plans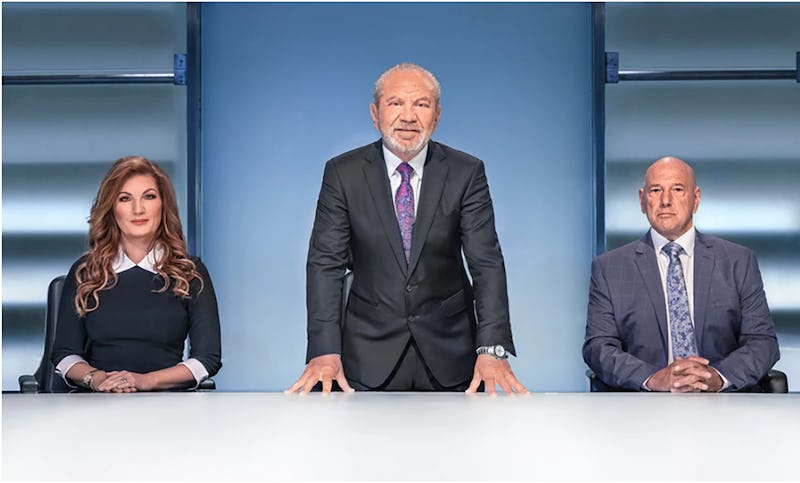 The Apprentice/ BBC One
The Apprentice returned on Oct. 3 for Season 14 and oh my, what a series it has been so far. The candidates have already been whisked off to Malta to find weird and mysterious objects and inevitably offend all of the locals. Week two saw them creating the most questionable children's comic books and last week they produced some interesting looking donuts, nearly murdering each other in the kitchen in the process. It has been so good. But when is the final of The Apprentice 2018? I am enjoying it far too much to contemplate its end.
Update: According to the BBC, the final of The Apprentice will air on Sunday 16 December.
Earlier: As much as I dread its end, the best task on The Apprentice is surely the final. As old, fired faces return to help (or realistically hinder) the finalists in making their business plans a reality, it is definitely the most nerve wracking episode. If previous years are anything to go by, the final will be on our screens in mid-December. In 2017, the final aired Dec. 17 and in a massive turn of events, saw both James White and Sarah Lyn receive the investment from Lord Sugar. I have only just recovered from the shock of it.
I reached out to a representative for The Apprentice to clarify the date for the final in 2018 and they said that whilst it will be airing in December the date is yet to be confirmed. Looking at Radio Times, they list the episode on 24 October as episode four of 12, which would put the final as Wednesday 19 December, providing they don't double up or miss any weeks. However, last year's final was on Sunday 17 December, so if they do the same this year, we could be looking at Sunday 16 December for final day.
As The Apprentice 2018 rolled around and 16 more hopeful entrepreneurs entered the dreaded boardroom Lord Sugar told them to "expect the unexpected." I'm scared and I'm watching from the comfort of my sofa. From a press release it would appear this year The Apprentice has really upped the ante. Whilst historically the candidates seemed to find it hard enough to make their way around London, the city that most of them live in, this series they will be sent all around the UK; to Glasgow to sell art, Birmingham to clinch deals at a Body Building Expo, and back to London to launch a budget airline. Lord Sugar is really making them work for that investment and it looks like there is lots to be done before we get to the final in December.
Season 14 has not been without its own controversy and drama too, because what would some negotiating and pitching be without a massive tantrum in the middle of each task? Frank Brooks left after week three after a scathing experience in the boardroom. Jasmine Kundra decided putting hot sauce on a doughnut might be a new and exciting way to spice up desert. And in week two Lord Sugar compared Khadija Kalifa's project management style to that of Vladimir Putin. So, there haven't been too many dull moments.
Whilst it is very entertaining the show is big business for Lord Sugar. He has invested £2 million in eight businesses and last year's decision to invest in both finalists proves you can't assume anything and everything can happen. I, personally, can't wait to see who will make it to the end out of The Apprentice 2018 candidates. It will be back on our screens on BBC One at 9 p.m. on Wednesday 24 October.