Topshop's Cruelty-Free Beauty Range Is Back With Some Seriously Cool New Products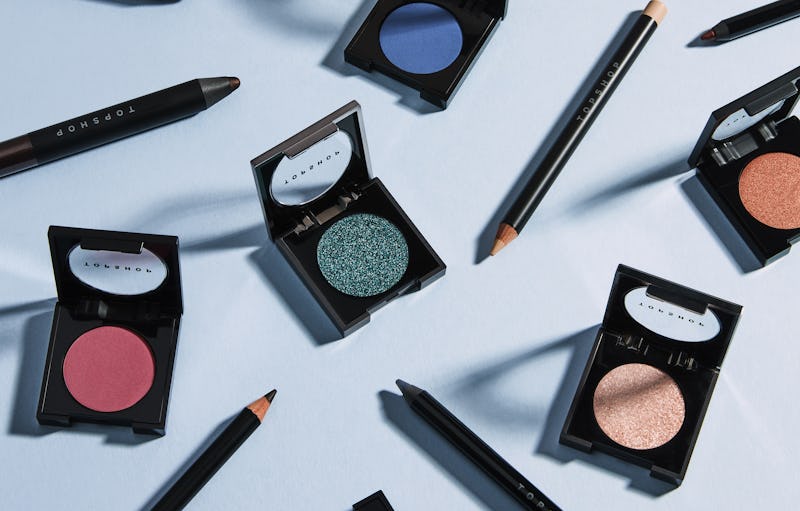 Topshop Beauty
Remember when the Topshop beauty range just kinda disappeared earlier this year? Yeah, I shed a tear too. Well, get ready to throw out the Kleenex, because the beloved range is making a triumphant return. A combination of old favourites and new additions will be available at the same affordable prices. So, when is the Topshop beauty range out?
Mark Nov. 2 on your calendars, because I'm sure these products are going to sell out pretty damn fast. Especially since Topshop is combining products from the original range with some amazing new additions, which I'm sure will become staple favourites in your beauty routine.
As Vogue reported, Topshop strangely began to phase out their much-loved beauty range earlier this year, and didn't really address where it was going or if it was ever coming back. However, our prayers have now been answered as it's finally returning. Yes, the range is coming back in force thanks to feedback from customers and industry experts, as stated in a press release sent to Bustle UK. All the staple products have been "reworked and revamped," and the formulas have been updated "to suit all skin types". The packaging will also look different, as "the signature squiggles and dots are being replaced with sleek, matte and metallic chrome casing." IMHO, this design choice was totally the right one.
So, what can you expect from the return of this magical range? Well, it takes quite a lot of inspiration from Topshop's fashion collections themselves. The press release states: "From futuristic metallic eyeshadows to channel your inner Blade Runner, to smoky, smudgy eyeliners that promise to keep everyone's obsession with '90s grunge alive." What's even better is that the entire range is cruelty-free. Yep, I'm sold.
If you like to be experimental or prefer to be minimalistic with your make-up, you'll certainly be spoilt for choice when it comes to your base. There's mattiffying and illuminating primers, liquid concealers and foundations, and the choice to opt for powder (praise be). To complete the look, textural glosses will "transform the finish and take your complexion to the next level."
And don't fret — the glow pots and highlighters have made their return, and the formula for these beauts hasn't changed at all, so you'll be able to give your cheekbones the sparkle they deserve.
Your eyes will also benefit from this shimmer as there are now six eyeshadow finishes to choose from including crayon. Yes, crayon. I can imagine some pretty fantastic, bright looks from the inclusion of this shadow. Match that with the 15 nail polishes at your disposable, and you'll be the talk of the Xmas party.
However, the staple of this range is the lipsticks. Brace yourself — there are 83 shades. Wait, 83? Am I in heaven? I think so. This also includes the "return of the best-selling, zingy red, Rio Rio," which will totally complete your look.
A beauty range wouldn't be complete without some tools to aid your make-up endeavours, and Topshop does not disappoint. With 10 brushes to choose from that will "help you buff and blend the entire Topshop Beauty range," it's hard not to get excited.
With prices ranging between £5 and £16 (I know), this winter looks like its going to be the perfect time to revitalise your make-up collection. The Topshop Beauty range will be available in 40 stores and online.