The 'Mindhunter' Cast Teased What's Ahead For Season 2 & It's Intense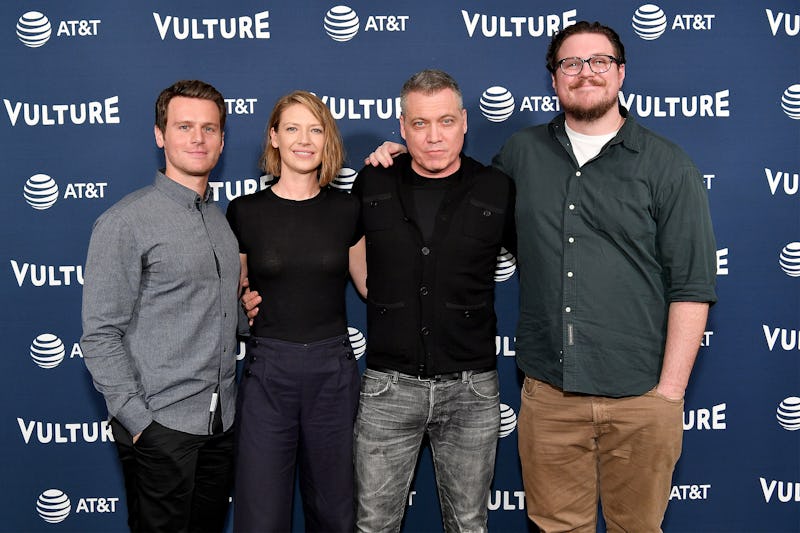 Dia Dipasupil/Getty Images Entertainment/Getty Images
Two FBI agents, a psychologist, and a serial killer walk into a room. No, this isn't the start of a bad joke — it was the cast of Mindhunter speaking at Vulture Festival on May 20. The actors took a break from filming Mindhunter Season 2 to discuss the Netflix series that takes a deep dive into the minds of serial killers. Jonathan Groff (Holden Ford), Holt McCallany (Bill Tench), Anna Torv (Wendy Carr), and Cameron Britton (Ed Kemper) couldn't reveal much about what to expect from the next season of Mindhunter. But if you've been worried about Holden's mental state, don't worry — Groff did say that Agent Ford will not be joining the ranks of the serial killers that he interviews.
"Everyone has said to me after they've watched the show that they thought my character was a sociopath," Groff told the Vulture Festival audience with a laugh. "And I had no idea. So many of my friends were texting me saying, 'So when are you going to start killing people?' And I was like, 'I thought I was playing an everyman.'"
But Groff reasoned that the murderers that Holden, Bill, and Wendy are interviewing did rub off on them a bit. "I think that the thing that [viewers are] aligning when they think that Holden is a sociopath — that we start to see more and more in our characters — is this characteristic of narcissism and becoming self-obsessed," Groff said. "It was one of the things about the serial killers sitting there and waxing philosophical about what they'd done and that need to have credit and be in the press that starts to kind of find its way into us at the FBI."
Groff continued, "My favorite character journeys for the three of us are at the end of the season when it starts to get a little tense at the unit and you start to see the narcissists come out. Particularly in my character, but it starts to come out in the three of us of — who invented this, who's taking credit for what. ... It's that quality of narcissism that we're seeing in Holden that makes him appear as though he is a sociopath. Or maybe I'm just a sociopath and I have no idea."
The one actor on the panel who actually portrays a killer with a personality disorder revealed that he found inspiration for his role in a unique place. Before landing the role of the real-life Kemper, Britton was a teacher for preschoolers with special needs. "[The students'] impulses can get really intense and everyone is looking to you as the teacher and you can't break," Britton said. "So I started slowly learning how to train myself to just cut all emotions out and just get rid of them entirely so I could be this serene presence." Bottling his emotions for hours would lead him to tear up alone after class, but he said this experience assisted him with his portrayal of Kemper. "When it came to playing Ed, it was actually really helpful. I never would have thought those two things would complement the other," Britton said.
Besides Britton's Kemper, another real-life serial killer viewers will see again in Season 2 is the BTK Killer. In Season 1, a mysterious ADT serviceperson appears in cold opens. McCallany confirmed what fans of true crime already knew — that this man is Dennis Rader, more commonly known as the BTK (bind, torture, kill) Killer. "Rader is a really complex character," McCallany said. "He committed his first murder in '74, wasn't arrested until 2005. So it was the longest period that a guy was ever at large with huge breaks in between when he would commit murders. So you know, a fascinating character." And since the moderator had noted that the cast couldn't speak about Season 2, McCallany added with a whisper, "We may see more of him." (According to Rolling Stone, Rader is currently serving 10 life sentences in prison for his crimes.)
McCallany also revealed that you shouldn't expect a Season 2 this year. "I don't think that Season 2 will be on until sometime in 2019," McCallany said. "We're actually in the process of shooting it right now, but we're still in Episode 1. So we've got a ways to go."
But whenever Mindhunter does return, Groff said the series will continue to try to answer the question that fascinates followers of true crime: "Why did that person do that?" Groff said, "Certainly that's the question we're asking in this. And, can you have empathy for people that are so below our contempt? You know, we shouldn't have time for them because they're deplorable human beings and what they've done is unforgivable. But the idea of asking the question of why and using empathy as a tool to perhaps in some way understand why or in some way to prevent it from happening again, I think is just a noble, human idea."
However, Groff acknowledged that even with real-life FBI agents and psychologists investigating the minds of people who commit crimes, there may never be an answer to why people do what they do. "The bleak message of the show is that we'll really never know. And we can try to understand and try to prevent things from happening, but evil just exists," Groff said. Yet, even if Holden, Bill, and Wendy's work does sometimes feel futile, that won't stop viewers from watching them try to unravel the mysteries of the human psyche in Mindhunter Season 2.