'Mindhunter' Season 2 Is Officially Happening & Here's Everything We Know So Far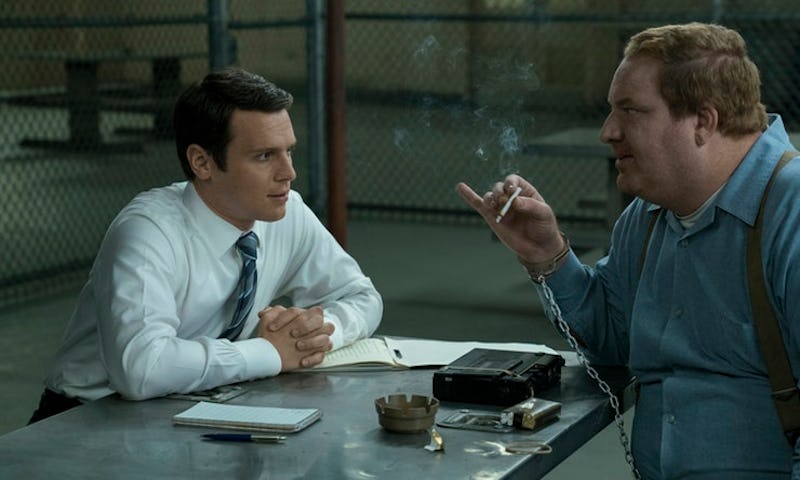 Patrick Harbron/Netflix
Fans of serial killer dramas should be excited to know that Mindhunter Season 2 is happening. Deadline reported that Netflix's renewal of the project was fully expected, as the show had already begun gearing up for its second coming well before the series began airing. Although details are currently scarce about the project, it's been reported that FBI agents Holden Ford (played by Jonathan Groff) and Bill Tench (portrayed by Holt McCallany) will return, along with psychology professor Dr. Wendy Carr (played by Anna Torv), as they attempt to get into the minds of notorious serial killers to better understand the subjects of other cases which they also seek to solve. The psychological crime drama is executive produced by David Fincher and Charlize Theron, both of whom reportedly remain on board for Mindhunters' Season 2 renewal.
Based on the 1996 book Mind Hunter: Inside The FBI's Elite Serial Crime Unit, the series adaptation opened to rave reviews from both critics and fans alike after its release on the streaming service in October with The Verge dubbing it "Netflix's Most Binge-Worthy Show Yet." To add an extra chill, the serial killers featured and portrayed on the show are real, and their crimes every bit as haunting as in the series.
As far as real life details are concerned, both Ford and Tench are said to be loosely based on two FBI investigators who have been credited with mind crafting the science behind profiling serial killers, according to Vulture. The character of Ford is reported to have been adapted from the life of John E. Douglas, whose work notably became the template of many murder investigations. Tench, on the other hand, was inspired by Robert K. Ressler, the man who has been credited with creating the term "serial killer." Meanwhile, Vulture also indicated that Dr. Carr's character is attributed to the persona of Dr. Ann Wolbert Burgess, the woman who helped to formulate criminal profiling methods of today. The trio is collectively credited with developing Sexual Homicide: Patterns and Motives — a 1998 study which chronicled the patterns of serial murderers.
The first season of Netflix's Mindhunters, which is set in 1977, retells the accounts of several notorious serial killers that have come to national attention for their cruel and malicious crime sprees, including Ed Kemper (Cameron Britton). An intriguing figure, Kemper becomes the character who ultimately defines the entire premise of Mindhunter's first season as Ford and Tench reach a breakthrough amidst interviewing the convicted murderer who as a teen was accused of killing his own grandparents.
Then there's the story of Jerry Brudos (Happy Anderson), who had been dubbed in the media as the "shoe fetish slayer" due to his penchant for women's shoes during a crime spree, in which he reportedly killed and mutilated the bodies of at least four women. (He pled guilty and received three consecutive life sentences, per the New York Daily News.) Vulture pointed out that research on Brudos helps give Ford and Tench the blueprint on how to profile other criminals that they encounter along the way. The season also profiles how Ford and Tench develop and use their newly learned techniques to examine the psyche of murderers Richard Speck, Monte Rissell, and Darrell Devier.
Though not specifically chronicled in the series' first season, there was notable indication that another subject would be introduced into the serial killer narrative that may be recognizable to fans who have followed tales such as these in the past: Dennis Rader aka the "BTK Killer." Rader, portrayed by Sonny Valicenti, can be seen donning an ADT uniform throughout several scenes of the series was notably featured in final scene of the inaugural season which is, perhaps, an allusion to him being a primary focus of the show's second season, according to Vulture. It's worth noting that Rader's reign of terror occurred from 1974 to 1991, although he was not captured until 2005. The span of his storyline could certainly give the show a lot of ground to cover in its return.
The overwhelming fan reaction to the series proves that murder and crime series remain popular with audiences. After the huge acclaim received from true-crime series such as Making a Murderer, adaptations of crime stories such as those detailed in Mindhunter are sure to continue captivating audiences for many seasons to come.