'S.W.A.T.' Will Be Dealing With The Fallout Of An "Explosive" Finale When It Returns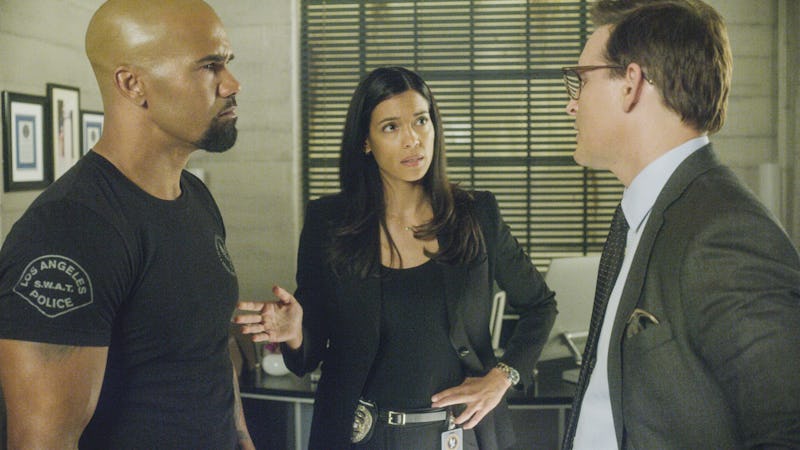 CBS
A crime procedural with a social justice bent, the CBS series S.W.A.T. stars Criminal Minds alum Shemar Moore as Sergeant Daniel "Hondo" Harrelson, a Los Angeles native whose new position is an attempt to bridge the gap between LA residents and the LAPD. Hondo is torn between the social injustices he has seen as a black man and his loyalty to his career, and he and his partner Deacon (Jay Harrington) have had to make some tough calls in high-pressure situations over the course of the show's first season, which comes to an end on May 17. According to TV Guide, S.W.A.T. will return for Season 2, but the network hasn't announced a premiere date yet. It's safe to say, however, that it'll likely return in the fall of 2018.
The show's central premise may be timely, but it is loosely based on a 1975 ABC series of the same name. The original series only lasted two seasons, but it piqued some interest in 2003 when a S.W.A.T. film starring Samuel L. Jackson (who portrayed Hondo) and Colin Farrell hit theaters.
Before Moore signed on to star in the new S.W.A.T. series adaptation, he had been consistently working in the TV industry for decades. He portrayed Malcolm Winters on the soap series Young & The Restless from 1994-2005 (with a two-year break in the middle) and went almost directly into his role as Special Agent Derek Morgan on Criminal Minds until he decided to leave in 2016. Moore talked about the difficult decision with TV Guide and said that he'd wanted to take a break. "It's been this weird, bittersweet feeling because it's [working on Criminal Minds] what I've known for so long. I'm just taking time to breathe, exhale, enjoy the view," he said.
But, S.W.A.T. was an offer he couldn't refuse and he referred to the role as his "dream job" in a CBS This Morning interview. "This is my dream job because I've always believed what I'm capable of," Moore said. "I get to be a lead, which I'm proud of, but I'm also smart enough and humble enough to know that I can't do it by myself and that it's not all about me."
Moore hyped up the Season 1 finale of S.W.A.T. on his Twitter, and promised it would be "incredibly explosive." The official S.W.A.T. Twitter account also gave fans a taste of the upcoming action with an intense sneak peek at Thursday's episode.
Stephanie Sigman, who plays Hondo's co-worker and love interest Captain Jessica Cortez, should be returning for the second season as well. In an interview with Backstage, she said that understanding Jessica's motivations and actions have been a challenge for her, because she and her character are very different people. who admits the character is very different from her. She said:
"I'm a very emotional person. Jessica is a little more brain. She has learned to be that way, otherwise she wouldn't be where she is as a captain. It's taken me a minute to understand and process the way Jessica processes things. It's not easy, because I usually do what I'm feeling…"
In the same interview, Sigman says she wished there were more Latina characters like Jessica in media when she was growing up. She praised the series for its diverse cast, and acknowledged that her leading role is powerful and "much bigger" than her in terms of what that representation means.
S.W.A.T.'s diverse casting, timely premise, and nonstop action have already opened the doors for another season. No matter how the season finale wraps up, there will be more episodes to explore characters' backstories and dive into Hondo's complicated relationship with the community that raised him.