Here's When 'This Is Us' Will Reveal What Happened To Jack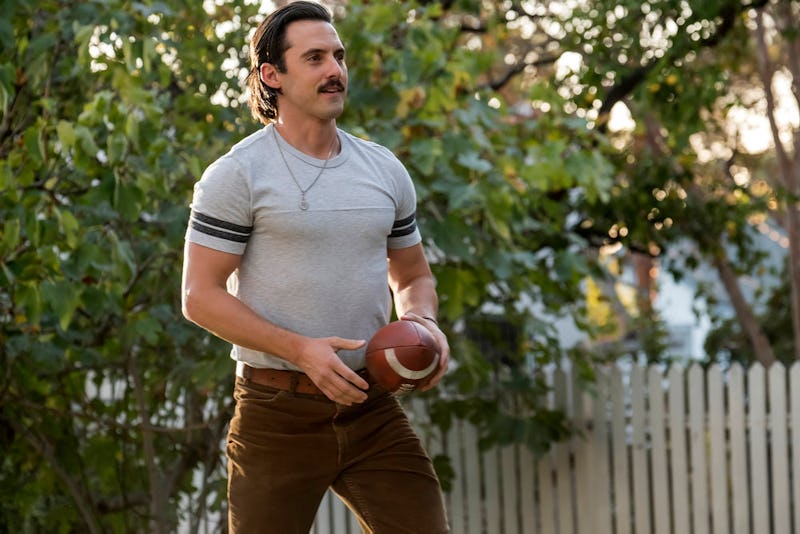 Ron Batzdorff/NBC
NBC's This Is Us will finish out its trilogy of episodes focused on each of the Big Three on Nov. 28 by delving even deeper into Randall's story, and, in doing so, it will wrap up until 2018. It's become a Tuesday night ritual for devoted fans to perch on their sofas, box of tissues in one hand and glass of wine in another, ready to watch the Pearsons endure whatever their next trials and tribulations may be. So when will Season 2 of This Is Us come back from its winter break?
Fans will hardly have time to recover from their New Year's Eve festivities before gearing up to meet the Pearsons once more — new episodes will be back at 9 p.m. on Jan. 2, according to Entertainment Weekly. Despite the struggles each character is going through — Kate and her miscarriage, Kevin and his substance abuse, and Randall with his foster daughter — the anchor that continues to carry the show is the mystery of Jack's death and how it continues to affect his children into adulthood. One might think that perhaps a few more details of his death might be revealed in the midseason finale, but also, perhaps it'd be best to let Randall's story be Randall's story, and pick up with Jack's death in 2018.
Many viewers are speculating that the full bulk of Jack's death is going to be launched at them following the January premiere — as Reddit user MaineSoxGuy93 pointed out, 2018 could even mark the 20th anniversary of the fire. "A thought just occurred to me. The Big 3 were born in 1980. They are now 37. Jack died in their senior year of high school. So that means Jack died somewhere between 1997-98," the user wrote. "That means the 20th anniversary of his death is coming up. We will find out how he died on the 20th anniversary of his death."
Another user, Soranos_71, said that they hope the showrunners don't wait much longer to reveal all the information. "I hope so because they are really dragging this out and the 'revealing of more details' teasing is starting to not have any emotional impact for myself," the user wrote in response to the post. There were also worries within the thread that the show would go full How I Met Your Mother, stretching the mystery for way too long and in the end revealing that Jack was somehow alive. Though the HIMYM finale has made it hard for many of us (me) to trust again, audiences can probably rest easy in the hands of creator Dan Fogelman.
"I think that it's fair to say you're not going to learn everything about Jack's death next week, but you're not going to wait until the season finale, either. It'll be somewhere in between," Fogelman told Entertainment Weekly after the Season 2 premiere.
He described the big reveal as similar to "peeling an onion," and insisted that it's not a story that could be told in one night — the inner workings of the Big Three's childhoods and adult lives had to be examined a bit more first. "You have to understand where they're all at that time period, what had happened in the marriage, what was happening with those kids, what was happening with those kids vis a vis their father, before they lost him, that frames these 37-year-old people we're seeing," Fogelman added. "Once we've done that, then we'll see everything we need to know about Jack. And it will be this season."
No matter how showrunners decide to split the clues between remaining episodes the remainder of this season, Jack's death will continue to be the focal point. Fogelman and his team of writers and producers haven't let audiences down so far, and if they promise closure by the end of the season, everyone should prepare themselves.