When To Talk To Your Partner About Your Mental Health Issue, According To A Psychologist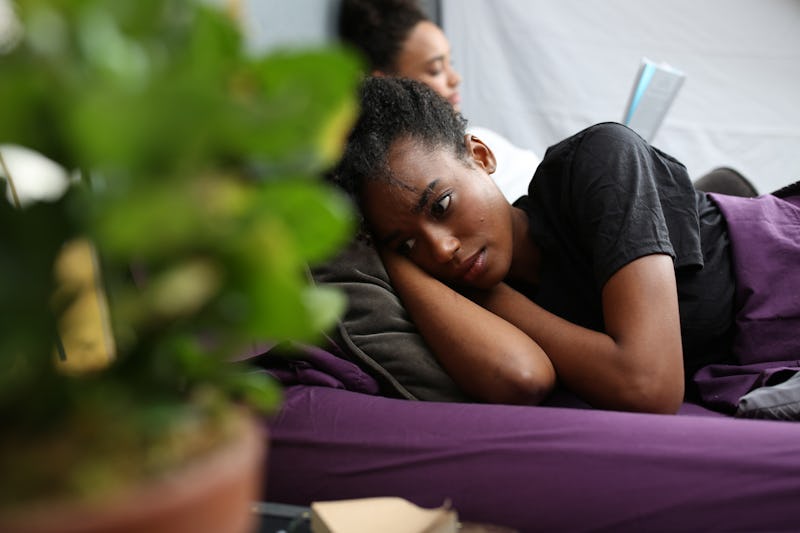 Ashley Batz/Bustle
People who are struggling with mental health issues have a few extra things to deal with. Maybe they're participating in therapy. Maybe they're taking medications. Maybe they've found other ways to manage their illness. But a big thing is knowing how and when to tell a partner that there's something kind of big they should know.
"Talking about a mental health issue can be nerve wracking, uncomfortable and embarrassing," Dr. Joshua Klapow, Ph.D. clinical psychologist and host of The Kurre and Klapow Show, tells Bustle. "And yet it is no different from talking about a physical health issue. Part of the problem— besides stigma— is simply a lack of understanding very often by the person with the problem and the partner who is being told."
Timing is important when you're telling a partner about mental illness. You probably don't want to blurt it out on the first date, for example. That's because, unfortunately, there's still a lot of stigma around mental illness. Sharing all of your diagnosis and treatment history right away could scare someone away before they know other important things about you. Like how sweet you are. Or how your nose scrunches when you think. Or how you're fiercely intelligent. It's a lot easier for people to get past preconceived notions that they hold about a mental illness when their brains are already full of other information about you.
So that's one tip — probably don't spill it all out on the first date. And here are five more tips from Dr. Klapow to help you make what can be a scary, tricky conversation a little easier.