When Trump's Victory & ICE Raids Hang Over Your Baby Shower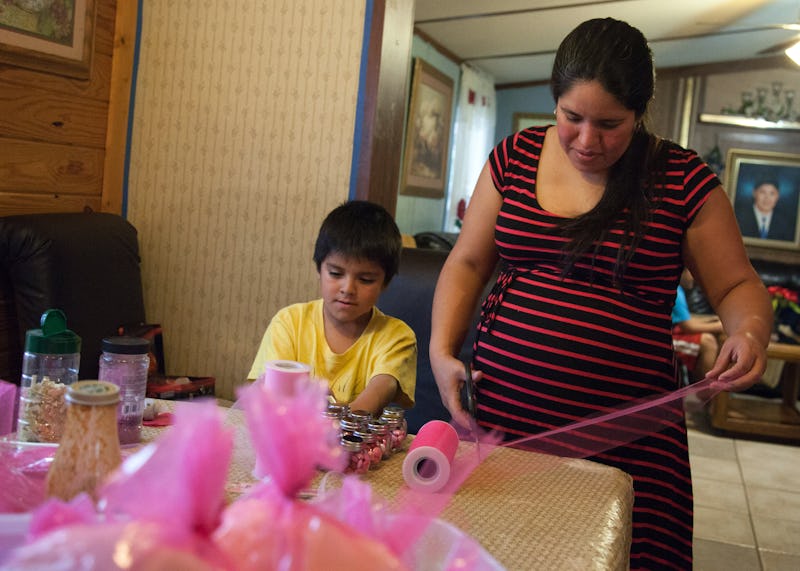 Fusion/An Uncertain Future
In a little over 100 days, Donald Trump's presidency has left a permanent stamp on the country — not only at the national level but also on the personal lives of many Americans. Examining that impact is the focus of Firelight Media and Field Of Vision's new documentary series, Our 100 Days, which features the work of filmmakers across the country in weekly installments.
Last week, Fusion, which is releasing the series, shared the installment, An Uncertain Future. Directors Chelsea Hernandez and Iliana Sosa showcase the experiences of two expectant mothers in Austin, Texas: One, Ruth Guzmán Torres, has lived in the United States for 21 years but is undocumented; the other, Cristina Tzintzún, is married to an undocumented man. The documentary captures how, shortly after the election, they begin to process the fact that Trump will be president. It shows both women grappling with feelings of fear and sadness about the future their children face.
For undocumented parents-to-be like Guzmán Torres and Tzintzún, the fear of deportation exists alongside the fear of being separated from one's children.
"As a parent, you want to give your child everything, and something as basic as just being there, holding their hand, watching them grow up," says Manuel, Tzintzún's husband, in the documentary. "I have no control over what this administration wants with our lives or thinks about us, knowing that they don't even want to give us the right to see our children grow up."
Deportation, intended to punish illegal immigrants, can punish their citizen children even more. When Orange Is The New Black actress Diane Guerrero was 14, for example, she came home one day to an empty house — her parents had been deported — and she was left entirely on her own. "Not a single person at any level of government took any note of me," she wrote in a Los Angeles Times editorial. "No one checked to see if I had a place to live or food to eat, and at 14, I found myself basically on my own."
The realistic fear that such a situation will occur is made devastatingly clear in An Uncertain Future. In one harrowing scene, a Texas legislator is asked whether the state has any policies or procedures in place to take care of the citizen children of deported parents. He responds simply that the state of Texas doesn't decide what happens to the deported.
Both women in the documentary also feared for their children, suspecting that anti-immigrant rhetoric masked a darker racism from which their newborns would suffer.
After the election, Tzintzún, who is half white and half Mexican, tells the filmmakers that she felt frightened even of her own neighbors. "The day after the election, I felt afraid in a way I never felt before," she is shown saying in the film. "I dreamt that there were vigilante groups going door-to-door in our neighborhood and my son was born and I was holding him in my arms, and I was hiding my husband in the floorboards."
After the birth of her daughter, Guzmán Torres told filmmakers, "I would like for her to grow up in a world without all of these problems we're seeing now, where the politics have calmed down, where no one could hurt her, where no one would look down on her for being the daughter of immigrants."
That fear of deportation permeates every moment of undocumented families' lives. At Guzmán Torres' baby shower, friends gossip about sightings of ICE officers and discuss whether they'd resist deportation. Some friends refused to attend the shower, fearing that if they were pulled over, they could be caught and deported.
Those fears are well-founded. As the documentary notes, in May, Texas Governor Greg Abbott signed a bill into law that permits police officers to ask about immigration status during any routine traffic stop or detainment. For undocumented mothers like Guzmán Torres, being pulled over for a broken taillight could result in a broken family.