Ariana's BBC Special Was Actually Filmed Way Less Recently Than You'd Think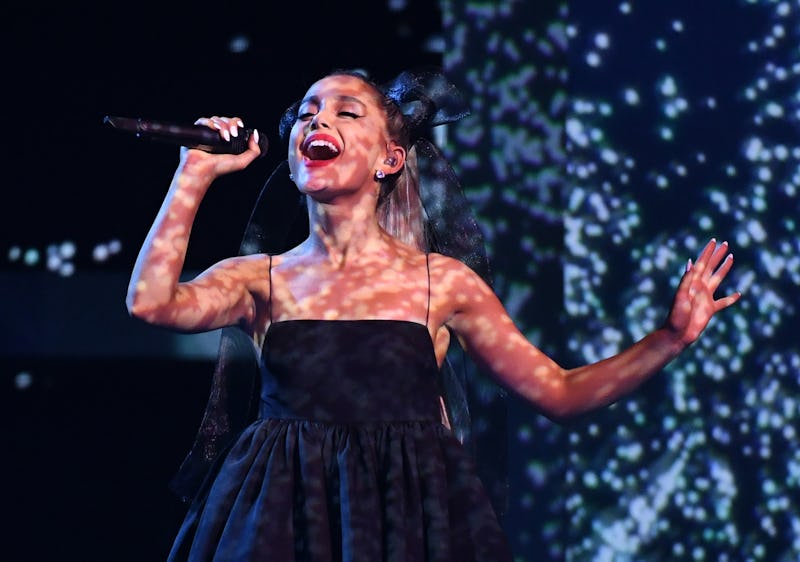 Ethan Miller/Getty Images Entertainment/Getty Images
This evening viewers will be treated to a BBC music special which will celebrate pop princess Ariana Grande. The show, titled Ariana at the BBC, will feature Grande performing some of her best loved hits, and sit down for an interview with host Davina McCall. Like many other special programmes of this kind, seen previously with artists including Adele, the show will not be broadcast live and was in fact previously recorded. So when was Ariana Grande at the BBC filmed?
The BBC special featuring Grande was announced by the broadcaster on August 31, and according to the broadcaster was filmed on September 7, the day which Mac Miller sadly passed away. People reports that the TV show does not confront the news about Miller, suggesting it was filmed before the news broke. The programme will run for one hour and will see the 25 year-old perform hits from her most recent album Sweetener, which debuted at number one both in the U.S. and the United Kingdom. The special was filmed in London with an all-female orchestra, and Grande recently took to Instagram to tease some sneak peak shots from the performance. The accompanying caption read: "UK babes, I'm excited to announce that my BBC special we shot in London will be airing on Nov 1 at 8pm on @bbcone".
The No Tears Left to Cry singer also shared an Instagram post which included a thank you message to the background singers, orchestra and conductor, Steve Sidwell, who worked on the show. It read: "I loved these arrangements so much. Thank u to my babes in the audience who made this such a fun, comfortable experience. miss u". In between a variety of performances, the pop star will sit down with presenter McCall to discuss her life, her music and her rise to fame, reports the Metro. This will be the first time Grande has appeared on the BBC since her tribute concert, One Love Manchester, which she headlined to honour the victims of the Manchester terror attack 18 months ago.
Apart from some short TV spots, there has been no official trailer for the BBC special. However, the BBC Music Youtube channel has released a clip of the superstar performing her hit God is a Woman, which will be featured in tonight's show, reports the Radio Times.
Ariana Grande at the BBC was filmed before a string of extremely difficult events for the singer, including the break-up of her relationship with comedian Pete Davidson and the untimely death of ex-boyfriend, rapper Mac Miller. Despite being in the midst of an album cycle, the singer recently revealed that she would be taking a break from social media. In a message posted on her Instagram story last month, Grade wrote: "Today was very special. Time to say bye bye again to the internet for jus a lil bit", and continued "It's hard not to bump into news n stuff that I'm not trying to see rn. It's very sad and we're all tryin very hard to keep goin. Love u and thank u for bein here always", reports the BBC.
Ariana Grande at the BBC airs tonight at 8 p.m. on BBC One, and if you're a fan of impeccable live vocals and the catalogue of hits the singer already has under her belt, you're not going to want to miss this.