It Looks Like Ariana Grande Covered Up A Tattoo She'd Gotten With Pete Davidson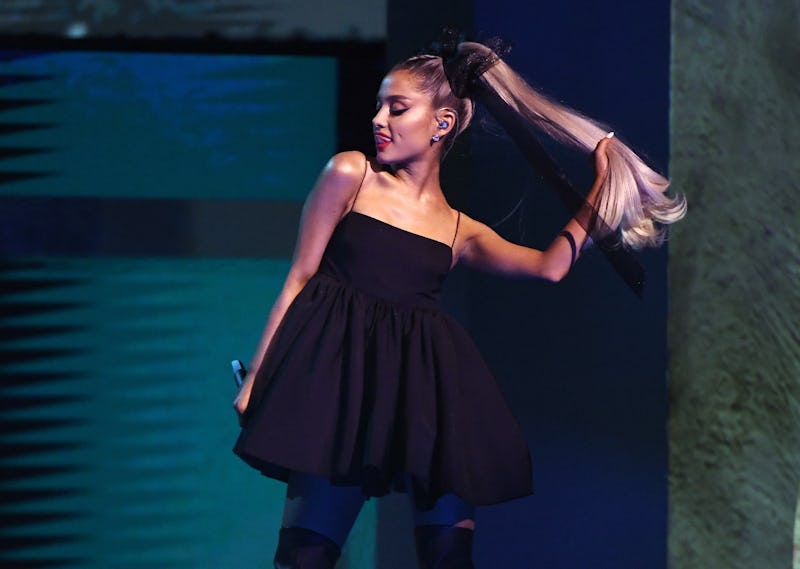 Ethan Miller/Getty Images Entertainment/Getty Images
Sad news, friends. It's the end of an era. OK, technically, the aforementioned era ended a few weeks ago, but now it's like, officially official. Ariana Grande covered up a tattoo that she got with Pete Davidson, Page Six pointed out, and that move may mean that she and her former fiancé are done for good. (R.I.P. Grandson: May 2018 — October 2018.)
Their fast-paced relationship was pretty short-lived, but the tattoos they got in honor of each other will live on forever. Actually, scratch that — most tattoos live on forever, unless you get them covered up or lasered off or something. Grande decided to do the former in regards to the matching "reborn" ink she and Davidson got together, so if you were rooting for the pair to reconcile ... well, maybe don't hold your breath.
In a clip the singer posted to her Instagram Stories on Tuesday night, Grande's left hand can be seen clinking glasses with friends. Her left hand is where her "reborn" tattoo once was, but alas, it is no longer. Now, in its place is a delicate feather. Hmm, interesting. Perhaps she feels *light as a feather* now that she and Davidson are done? Just kidding, that's totally just a guess.
Despite her recent breakup, Grande's caption on the Instagram clip seems to imply that she's in good spirits. In a heartfelt ode to her supportive group of friends, the singer wrote,
"i have no words to describe how much i love and am eternally grateful for these human beings who constantly help me turn lemons into lemonade and literally heal me and put me back together. i love @lexie1225 @victoriamonet @dougmiddlebrook and aaron simon gross forever."
While she's clearly working on moving on, the "reborn" tattoo wasn't the only Davidson-related ink the singer got on her body. The former couple got at least eight total tattoos together during their brief romance, according to People, so she'll have to find some creative ways to cover the others up, too — assuming she wants like, zero reminders of their relationship.
While performing "The Wizard and I" for NBC's A Very Wicked Halloween: Celebrating 15 Years on Broadway on Oct. 29, it quickly became very apparent that there's at least one other tattoo she no longer wanted visible. Once upon a time, Grande had "Pete" inked on her left ring finger. During the broadcast, though, that tattoo was very obviously covered by a bandage.
Hey, maybe she cut that finger on something right before the show. Maybe she got "Pete" lasered off and the band-aid was there to make sure it healed properly. Maybe she hadn't quite decided what she wanted to do with it, and just covered it up temporarily. After all, she tends to use her hands to hold the microphone while she sings, so it'd be kind of hard not to notice it.
Whether or not Grande plans on getting all of her Davidson-era ink removed or covered up remains to be seen. All that matters is that she's doing what she needs to do to get through it.