Beyoncé's Twins' Birthday Is Still A Mystery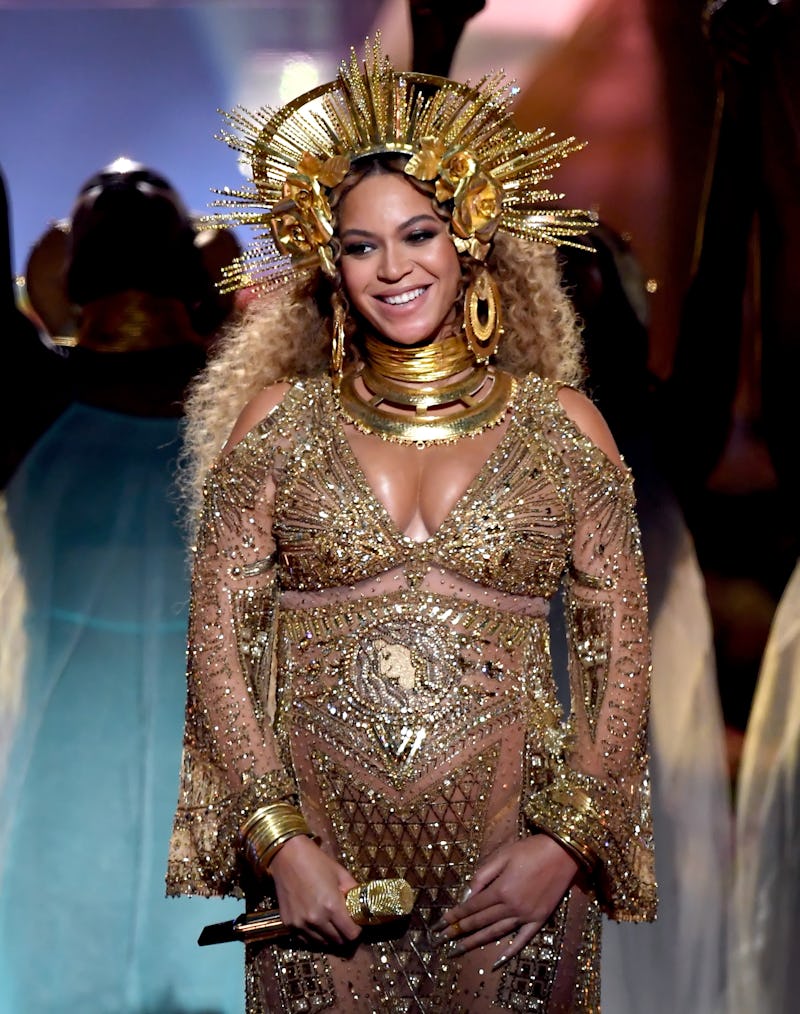 Kevin Winter/Getty Images Entertainment/Getty Images
Over the weekend, the world finally got the awesome news it was waiting for: Beyoncé has given birth to twins. Unfortunately, there aren't too many details about Blue Ivy's younger siblings out there, and at this point, it's hard to answer so many of the burning questions I have about the Carter family. Are the twins boys, girls, or one of each? What are their names? And most importantly, when were Beyoncé's babies actually born? So far, there are a lot of mixed messages going around about when their birthday might be.
Knowing Beyoncé and JAY-Z (and the way they handled Blue Ivy's birth in 2012), I had a feeling that they'd remain pretty private this time around, and so far, the couple has yet to release an official statement about the twins. Instead, the news was confirmed by Bey's dad, Mathew Knowles, on Twitter, when he announced, "They're here!" on Sunday morning. And the fact that his tweet was accompanied by a birthday-themed photo from "Granddad" would lead you to believe that this meant they were born on June 18, right? Umm... not necessarily.
Because rumors have been surfacing about Beyoncé supposedly being in the hospital and in labor for days now, so it's impossible to pinpoint the exact date she gave birth — and thanks to other evidence, it seems pretty unlikely that they were born Sunday.
The biggest clue of all? Beyoncé's mom, Tina Knowles, wasn't actually anywhere near her daughter on Sunday, as Cosmopolitan pointed out. Over the weekend, she shared Instagram posts from a wedding in New York, so I'm assuming she may have already met the twins and Bey and Jay are all settled in, right? I don't know about you, but I've never met a grandmother who could be ripped away from her brand new grandchildren that quickly — not even for a wedding.
Knowing where Tina spent her weekend makes it pretty easy to deduce that the twins must have been born at least a few days ago, and sources who claim to be close to the Carters seem to be saying the same thing. People were a little thrown off by Tina's caption about not rushing things on the post, but since Mathew already announced the birth, it doesn't mean much.
According to what insiders told Us Weekly, Beyoncé allegedly gave birth early last week, and that would certainly make sense, given how many days ago reports of her labor started rolling in and the fact that Tina has already left her daughter's side.
Of course, nothing has been confirmed quite yet, so we'll have to wait for Beyoncé and JAY-Z to fill us in themselves as far as figuring out the twins' real birthday goes. My fingers are crossed that the good news comes sooner rather than later — along with their names and maybe even a photo or two. I'm dying to see if they look like their big sis.