Mathew Knowles' Post About Bey's Twins Is Not OK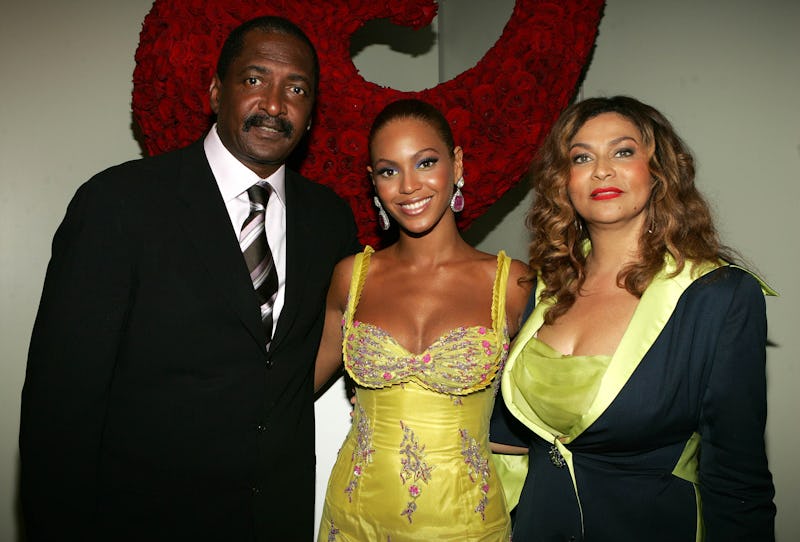 Frank Micelotta/Getty Images Entertainment/Getty Images
On Saturday, the Beyhive started buzzing as rumors that Beyoncé has given birth to her twins began to swirl. Whether or not the twins have actually arrived has yet to be confirmed, but that didn't stop Beyoncé's father, Mathew Knowles, from posting about the babies' birth on Twitter. His post congratulating Bey is drawing criticism from the artist's fans, and for good reason. Bustle has reached out to Beyoncé and Jay Z's reps for comment, but had not heard back at the time of publication.
Beyoncé and Jay Z have not confirmed the arrival of their twins, and as the proud parents, the news is theirs to share. More than that, it seems that the singer and her father may have a tumultuous relationship. While Knowles was the manager of Destiny's Child, the 35-year-old superstar has since severed professional ties with her father. However, they appear to have maintained their personal relationship, with Beyoncé's mother, Tina Lawson, sharing a post on Instagram of the father and daughter together in May 2016, shortly after the release of Lemonade.
Only the singer and her father truly know what their father-daughter relationship is like on a day-to-day basis. But it still seems wrong for Knowles to share a congratulatory post before his daughter has even confirmed her twins have been born. Bey's fans seem to agree, and they're not being shy about sharing their thoughts on the subject on Twitter.
While you could chock the announcement up to an over-excited grandfather, if you look closely at the bottom of the photo, you will see Knowles included his Instagram handle. Adding his social media information to a post seemingly about the alleged arrival of his grandchildren makes it feel like self-promotion. Notice, he also doesn't direct the message to his daughter or son-in-law. Instead, he uses hashtags of their names (while Beyoncé isn't an active Twitter user, Jay Z has an account).
No matter his motivations, unless Beyoncé gave Knowles permission to share a congratulatory post before her official announcement, this just doesn't feel right. This news is special and it's for the parents to share on their own terms. Knowles' post may seem harmless enough, but it feels like it's taking away his daughter's right to choose how and when she wants to tell the world about the arrival of her babies.
It's impossible to know a person's true motivations, and it's not out of the realm of possibility that Beyoncé gave her father the go-ahead, but it's still easy to see why the Beyhive is upset on the artist's behalf. This is major news, and it's news that Queen Bey and Jay Z have every right to share on their own terms and in their own time.