Will John Legend & Ariana G.'s Duet Be On Spotify?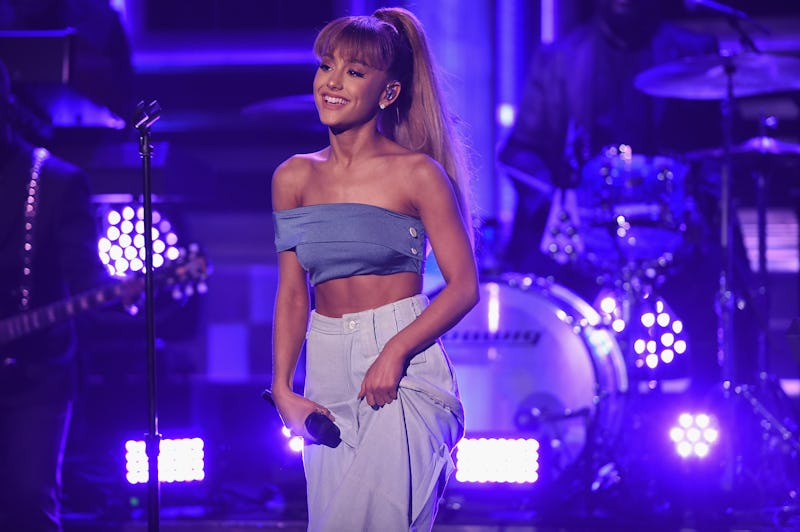 Theo Wargo/Getty Images Entertainment/Getty Images
As far as movie previews go, the live-action remake of Beauty and the Beast sure did save the best for last. What is it about the final Beauty and the Beast trailer that sets it apart from the previous Beauty and the Beast trailers, exactly? Oh, it might be that excerpt of Ariana Grande and John Legend's rendition of the greatest Disney ballad of all time (just stating the facts). And when I say "it might be," I mean "it definitely is." Man, that duet sounds upsettingly good. And now that I've encountered that snippet of their stunner of a cover, I gotta ask: When will Grande and Legend's "Beauty and the Beast" be on Spotify? When will I be able to put the entire song in my ears? Whennnnnn? Update: On Friday, Feb. 3, the "Beauty and the Beast" duet was finally placed on Spotify.
Earlier: If I were to cast an educated guess out into the ether, I'd bet on sometime in March. The reason? Get ready for a wild leap: The soundtrack is slated to drop on March 10. So, if Grande and Legend's version of "Beauty and the Beast" does make it onto Spotify, it'll probably be added to the streaming service this spring. But hey, for all I know, the cover could always be released as a single before the soundtrack comes out. (And I, for one, would not be mad about that.)
As far as orders go, covering Beauty and the Beast's theme song is as tall as the tower where the Beast keeps the enchanted rose: Howard Ashman and Alan Menken's award-winning masterpiece was originally sung by Angela Lansbury, and then again by Celine Dion and Peabo Bryson. If the 2017 edition was going to do right by the objectively iconic 1991 versions, it had to go big or go hang out with Gaston. And go big is what it did. Enter: Grande and Legend, two of the finest vocalists on the planet.
Ugh. How dare this cover be so beautiful. How dare it.