'Colony' Is Making A Big Move In Season 3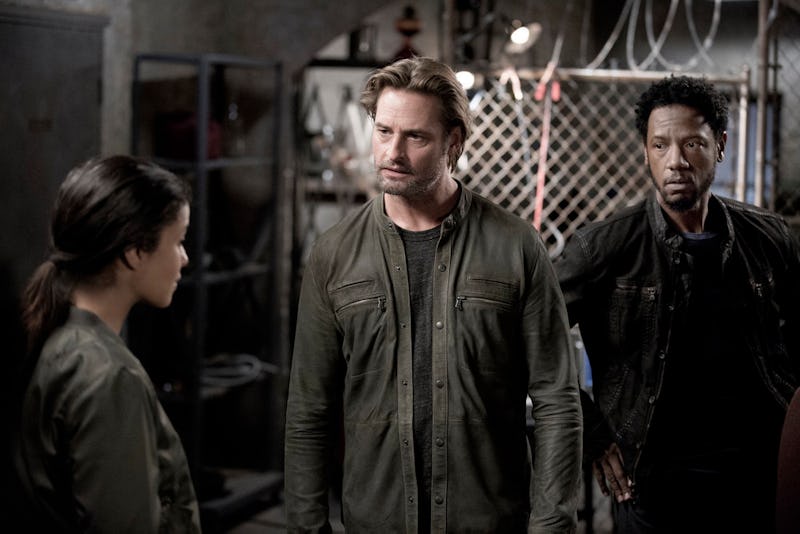 Isabella Vosmikova/USA Network
The USA sci-fi series Colony is bringing its second season to a close with what's sure to be a shocking finale episode that could potentially change the whole resistance and the Barrowman family's role in it. There have been some big, big developments this season (spoilers ahead!), such as the surprise death of Devon and the big premiere flashback that demonstrated how the aliens managed to take over Earth so quickly. Overall, I think the show's second set of episodes improved on its intriguing debut season. There's a lot more story to tell about the occupation and the resistance, so when will Colony return for Season 3?
Fans can watch the show's April 6 season finale with confidence, because new episodes are coming. Deadline reported on April 5 that Colony has been renewed for Season 3, along with details that may explain why the news came so late in the season. Colony had been filming in Los Angeles, but next season's production will move to Vancouver. Apparently, the show was not able to get a tax credit from California, making shooting in Vancouver a more cost-effective choice. This new 13-episode season of Colony isn't expected to premiere until sometime next year.
But you know what? Colony isn't the only game in town. Science fiction is one of the most popular genres on TV. In addition to plenty of series about traveling through and manipulating time, there are shows about extraterrestrials invading our planet; technology that would make it possible for humans to live in space; and even other versions of post-apocalyptic societies, similar to Colony's version of Los Angeles. These shows will help pass the time while you wait for Colony to return.
The Strain
It's gorier than Colony, but the shows have slightly similar premises. Here, instead of aliens coming down to Earth, it's a vampire virus that leads to an apocalypse. The Strain's final season will air this summer.
The 100
This YA book adaptation is also post-apocalyptic, but with large scale nuclear war almost taking down humanity. But with Colony and The 100 both featuring a group of human survivors attempting to build new lives, the shows have a lot of similar themes.
The Expanse
The second season of Syfy's The Expanse — about a future where space exploration has led to humans living throughout the solar system — has developed its central, paranoid mystery in exciting ways. Deadline reported that Season 3 of The Expanse will premiere in 2018. Until then, you can catch up on the first 23 episodes.
BrainDead
Sadly, this oddball comedy only lived for one season. But since it aired and vanished without much fanfare, you may have missed out. BrainDead is a goofier take on the same political satire that shows like Veep are lauded for, with the added bonus of brain-chomping alien ants.
Hunters
Unfortunately, this series was cancelled as well. But if you happened to miss Hunters' first and now only season, you're in for a mix of family drama, procedural mystery, and a secret ring of alien assassins who hunt and kill extraterrestrials trying to blend in on Earth.
Ancient Aliens
Even though Ancient Aliens airs on History and is ostensibly a docuseries, it feels far more fictional than Colony. But it's constantly airing in marathon sessions. And when no other cool sci-fi is on, it'll do just fine.
The colonization isn't over yet. Colony will be back in 2018 for Season 3, and these sci-fi series will hold your attention until the battle for Earth continues.