Ellie Goulding's Super Romantic Wedding Announcement Was SO Old School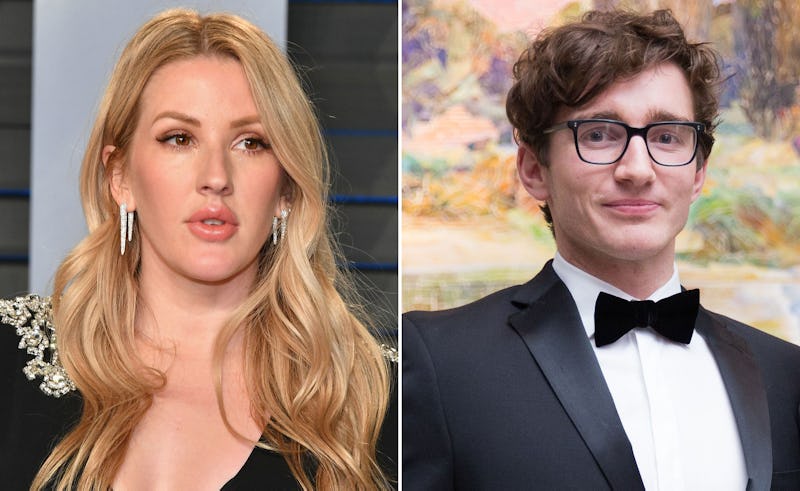 Dia Dipasupil/Getty Images Entertainment/Getty Images/Carl Timpone/BFA/Shutterstock
Ellie Goulding may have crooned away at Meghan Markle and Prince Harry's wedding, but now, it's her turn to walk down the aisle. The singer confirmed that she is engaged to art dealer Caspar Jopling in The Times on Tuesday. Now, the next question is, when will Ellie Goulding get married?
The couple's engagement announcement was buried in the Births, Marriages and Deaths section of the paper, according to Metro. It read: "Mr C.W.F. Jopling and Miss E.J. Goulding. The engagement is announced between Caspar, son of The Hon Nicholas Jopling of Yorkshire and Mrs Jayne Warde-Aldam of Yorkshire, and Elena, daughter of Mr Arthur Goulding of Hertfordshire and Mrs Tracey Sumner of West Midlands."
While most celebs planning to get hitched like to tell the world via Twitter or Instagram, this approach is totally on brand for the low-key couple. I wouldn't be surprised if while we were all wondering when will Ellie Goulding get married, the singer just did it quietly and then casually posted a Facebook album full of wedding photographs while our backs were turned.
So, I reached out to Goulding's rep to see if they could any light on when the big day will be. Unfortunately, I wasn't given any comment on the matter.
However, what I do know is that the singer is currently working on her fourth studio album. During an interview with the Evening Standard, she said: "I have sort of gone back to basics and am doing a lot of the writing on my own. I mostly collaborated with songwriters on the first three albums, so this is a step in a new direction."
With that in mind, will the singer even have time to plan a wedding any time soon? Maybe she'll kill two birds with one stone and launch the new album on her big day. To be fair, that's pretty unlikely but I for one would like love to see Goulding bop back into the charts.
The star recently opened up about her relationship and admitted that she is very content with Jopling. "We're really, really happy together. I'm loving my life at the moment," she told the Evening Standard. Goulding also appears to be super supportive of his career. In fact, she recently worked with him at Sotheby's on a little project about their favourite contemporary art pieces. Well, you know what they say? A couple that buys ridiculously priced art together, stays together. OK, I made that up. But these two do seem ridiculously smitten with each other.
Of course, Goulding hasn't always been so lucky in love. Prior to meeting Jopling, she had a number of high-profile relationships that didn't work out. In 2013, she dated McFly's Dougie Poynter, and the couple stayed together for three years before parting ways. She was went out with Mamma Mia: Here We Go Again actor Jeremy Irvine, DJ Skrillex, and BBC Radio 1's Greg James. In addition, she's also been romantically linked to Calvin Harris and Niall Horan.
However, it wasn't until she met Jopling that she really fell head over heels. The couple, who have been dating for 18 months, first started off doing the long distance thing, as he was working at New York's Sotheby's offices and she was off jet-setting round the world. However, times have changed since then according to Metro, as the pair currently live together and split their time between both New York and London.
Although I'm 150% here for Ellie Goulding's comeback and a tune to rival Starry Eyed, here's hoping that her wedding and life with Jopling is filled with nothing but light.