Here's When Beyonce & JAY-Z's Surprise Album 'Everything Is Love' Could Be On Apple Music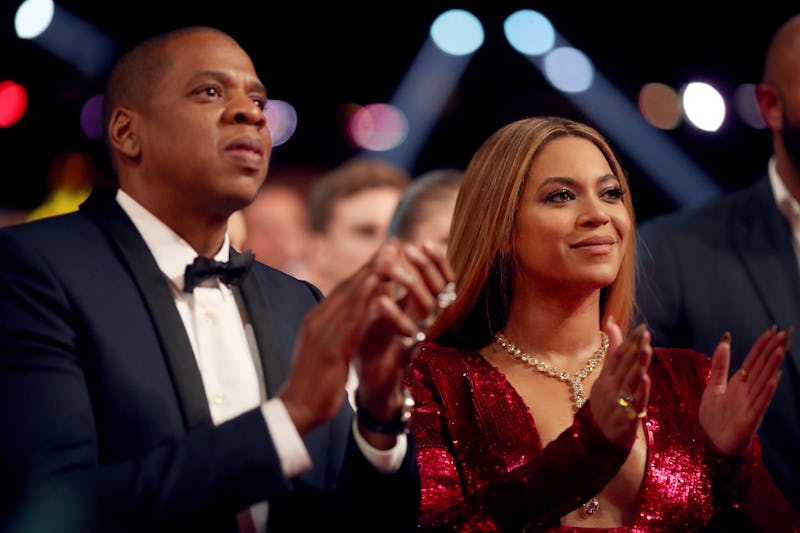 Christopher Polk/Getty Images Entertainment/Getty Images
UPDATE: Everything Is Love was released on iTunes, Apple Music, Amazon Music, and Spotify on Monday, June 18.
EARLIER: Talk about a major surprise. On Saturday, June 16, Beyoncé and JAY-Z dropped the surprise join album Everything Is Love on TIDAL. The 9-song collection is currently exclusively streaming on the service, but if you're not a subscriber, you're probably asking yourself when Everything is Love will be on Apple Music. (Bustle reached to Apple Music for comment, but did not receive an immediate response.)
Apple Music currently does have some Beyoncé and JAY-Z albums and tracks streaming. JAY-Z's 2017 album 4:44 is available on the Apple Music platform. Some of Beyoncé's classic tracks are available to stream on Apple Music, including "Irreplaceable," "Halo," "Love On Top," and "Crazy In Love," her 2003 hit song with husband JAY-Z. It doesn't look like Beyoncé has any full albums available on the streaming platform, but she does have several music videos available, such as "Grown Woman," "Yoncé," and "Partition."
Most notably missing from Apple Music is Lemonade, the 2016 album that Beyoncé revealed on HBO. The album has been exclusively streamable through TIDAL since it premiered in 2016. While the album is available on iTunes, it was not made available on Apple's streaming service, which could possibly signify the same future for Everything Is Love, although nothing has been confirmed at the time.
Everything is Love is a 9-track collaboration by The Carters, featuring appearances by their daughter Blue Ivy (who provides a shoutout to her twin siblings Rumi and Sir on the track "Boss") and Pharrell Williams. It is their first joint album together, though the two have collaborated on many songs in both Beyoncé and JAY-Z's discography. The track list consists of tracks named "Summer," "Apesh*t," "Boss," "Nice," "713," "Friends," "Heard About Us," "Black Effect," and "LoveHappy." TIDAL also has an exclusive track called "Salud," in addition to the tracks listed above.
On Saturday, at their "On the Run II" tour in London, Beyoncé and JAY-Z announced the release of their album through the music video premiere of "Apesh*t." In a Twitter video, by Twitter user Uche Amako, you can see (and hear) the moment that Beyoncé and JAY-Z revealed the new album with the words "ALBUM OUT NOW" taking over the screen at the end of the music video.
For fans who do want to hear the new music by the couple, but can't because they only subscribe to Apple Music, there is hope. TIDAL, which is exclusively streaming the album, is offering a 6-month free trial period for their streaming site. Hopeful listeners just need to go to TIDAL's site and sign up through the trial period prompt. The service does request a credit card at sign up, though you're not charged until six months later, when the trial period is up and normal service commences.
Additionally, you can purchase the Everything Is Love album on TIDAL now, as well. The album is not yet available on Apple's iTunes store, though Beyoncé's Lemonade album was made available for purchase. There is no further information from Apple if it will be made available just yet.
So, for those hoping to listen to Beyoncé and JAY-Z's new music on Apple Music, you will need to go elsewhere for the time being. The streaming service may never get the music, which may be the case for Spotify, as well, so listeners may need to take advantage of the free trial on TIDAL. Beyoncé may have hinted why her music isn't on Spotify in the song "Nice," when she raps, "If I gave two f*cks about streaming numbers woulda put Lemonade up on Spotify." So, Apple Music users may be waiting a while.