You'll Have To Wait For 'The Bachelor Winter Games'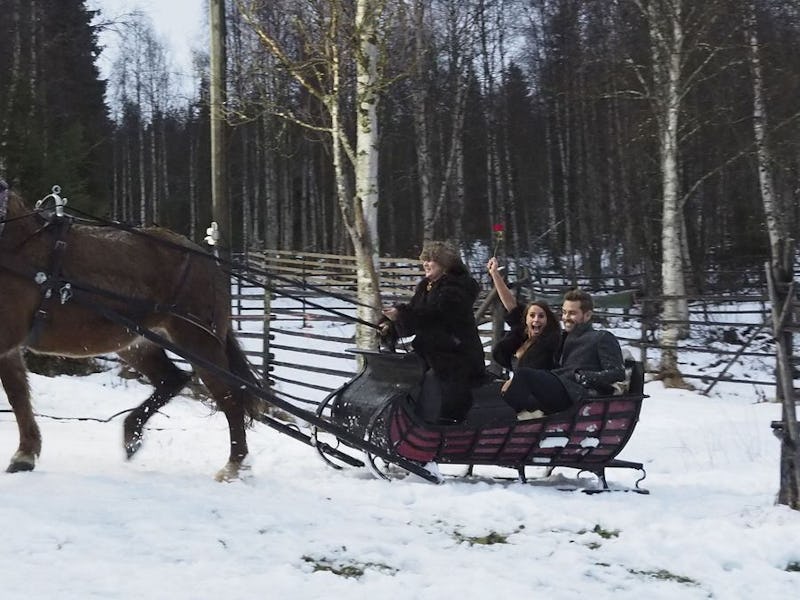 ABC/Terhi Tuovinen
The Bachelor is trying to take competitive dating "to a chilling new level" — literally. If you ever wanted to see your favorite Bachelor contestants from seasons past try their hand at Olympic sports, then you're in for quite a treat. As reported by Deadline, ABC has ordered a spinoff of The Bachelor, called none other than The Bachelor Winter Games, and it will reportedly be inspired by the Olympic games. So, when will The Bachelor Winter Games actually premiere? Well, you'll have to wait a little while, but the timing makes total sense.
According to Deadline, this new spinoff starts in February 2018, since the official Winter Olympics will be airing for two straight weeks on NBC starting on Feb. 10. The Bachelor Winter Games will bring contestants and fan-favorites from The Bachelor and The Bachelorette to an unnamed "luxurious winter resort" to compete with one another in some winter-themed athletic challenges "including the toughest sport of all — love," as ABC teased in the network's official announcement. The premise sounds pretty bizarre, to be honest, but it definitely won't stop me from watching the show. Dating has always been a test of strength, almost like a sport in itself.
While we'll have to wait until next year for this show to air, the good news is that we'll at least have The Bachelorette, which is premiering its new season featuring the first ever African-American lead on May 22. Plus, making the news more exciting, ABC's Robert Mills tweeted on Tuesday morning that the new spinoff will air in conjunction with The Bachelor (which just got picked up for a 22nd season) and the Winter Olympics.
This isn't the only spinoff series that The Bachelor has spawned. Along with The Bachelorette, Bachelor in Paradise will return to ABC this summer. Here's to more televised romances to watch in the future.