Here's What To Expect In 'The Chilling Adventures Of Sabrina' Season 2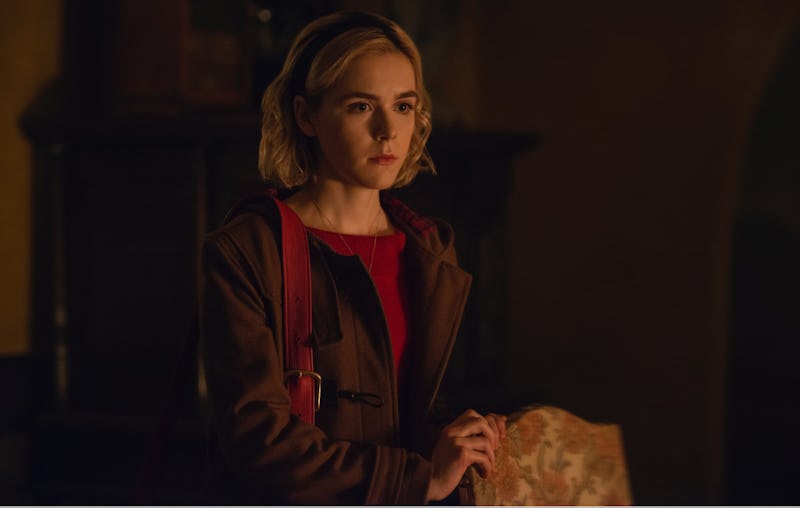 Diyah Pera/Netflix
The first season hasn't even dropped on Netflix, but it's never to early to start speculating about when The Chilling Adventures of Sabrina will return for Season 2 — especially given that plenty of people will probably marathon it the second it comes out. It's basically the perfect pre-Halloween series, and fans will likely be chomping at the bit for more witchy content. This is a Roberto Aguirre-Sacasa show, after all, we Riverdale viewers well know that he has a proclivity for major twists.
The good thing is, everyone can rest assured that Chilling Adventures will be back. According to the Hollywood Reporter, the show was picked up for two 10-episode seasons last December. Sources told the outlet that filming would happen back-to-back, spanning from February through October. There's no confirmation on if the show actually kept that schedule, but if they truly finished filming Season 2 in October, more episodes could be around the corner pretty soon.
That being said, they may decide to hold Sabrina Season 2 until Halloween 2019 purely based on the subject matter of the show, and because Season 1 is hitting just ahead of the holiday.
It's also possible some Chilling Adventures characters will pop up elsewhere on-screen. The show, based on the Archie comics, shares a universe with Riverdale, so potential crossovers, Easter eggs, and continued plotlines are likely. And star Kiernan Shipka has already begun teasing what could be ahead.
"Sabrina's family history is definitely really interesting," she told DigitalSpy. "She was raised by her aunts Hilda and Zelda — Miranda Otto and Lucy Davis in this were just wonderful. Before that, Sabrina's history is that her father Edward, who was huge in his community, who was the high priest of the Church of Night, married a mortal woman. It was a big controversy. And Sabrina never knew them because after she was born they died in a plane crash. That's what she's been told and there's a little bit of suspicion around that claim. It doesn't feel right or accurate."
The young witch featured in the show is also very much a modern-day Sabrina — not a retelling of the character in the comics or the beloved '90s series — which means she could fit in perfectly to the modern TV landscape. "This is totally the Sabrina for 2018, in so many ways. She's a woke witch," Shipka told Variety in a recent interview. "Her entire grappling with signing her name away in the Book of the Beast and questioning a lot of the more patriarchal elements of what she was raised to believe and to go into. I think that in and of itself is very feminist and she's a strong independent woman and she stands up for herself and she does what she thinks is right."
So, if you know in your heart that you won't be satisfied by just one season of Sabrina, you have nothing to fear. The spooky series isn't going anywhere just yet.