11 Ways Sabrina Was So Totally '90s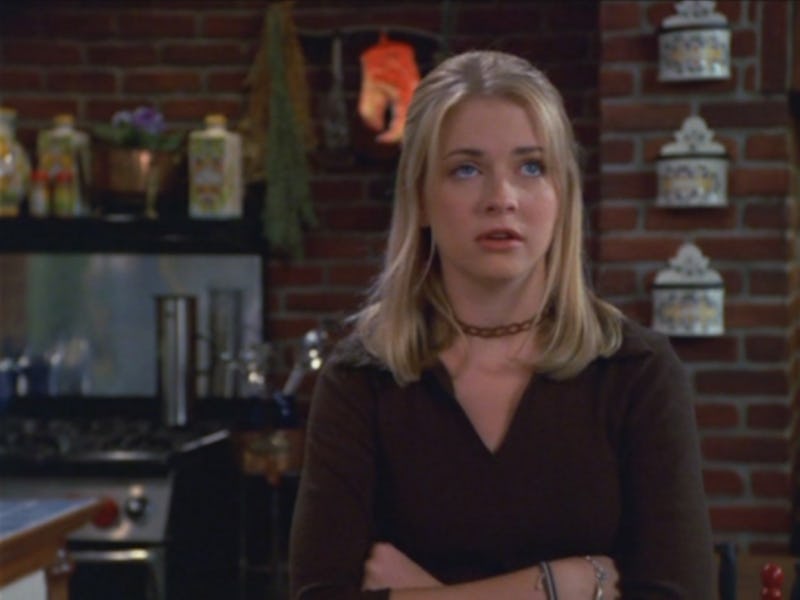 There's no denying that the '90s gave us some of the best-dressed teens to ever grace our television screens. But in retrospect, nothing was quite as '90s as Sabrina The Teenage Witch fashion, if you ask me. Sure, Kelly Kapowski had far too many ensembles that made us drool, there wasn't a Blossom Russo outfit we didn't want for ourselves, and the Tanner sisters were sources of utter inspo. But Sabrina reigned supreme.
I'm the first to admit that I would have died for Cher Horowitz's rotating closet full of fabulousness. I desperately wanted to grow up to be part of a trendsetting girl squad like Carrie Bradshaw, too. But it was Sabrina who made me jealous with a capitol "J."
Sabrina could transition from one fashionable ensemble to the next by simply waving her finger. Having the trendiest outfits at one's fingertips? I'm in. From the butterfly clips in her hair to the platform slide sandals on her feet, this witch certainly earned a spot as one of the most fashionable '90s TV characters.
If you ever tried to dress like Sabrina The Teenage Witch, then you know her aesthetic was as '90s as it gets. Take a look at 11 ways her style embodied the decade.
1. The Sheer Shirts Over Tanks
Layering was key in the '90s. We loved throwing a sheer top over a tank back in the day, because why not? Sabrina was clearly down for this trend, rocking sheer sleeves atop tanks on many occasions.
2. The Spiky Hair
Enough said! Sabrina's spiky hair and mini buns were oh-so-'90s. She looked as though she was styled by Gwen Stefani herself here. Plus, she was rocking brown lippie, and we all know how retro that is.
3. The Sworn Enemies Straight Out Of Clueless
If you were to tell me that Libby and her crew were extras in Clueless, I would have believed you. The populars were known for strutting their stuff in plaid skirts and thigh-high socks. However, they often put a little twist on the trend by wearing mismatched socks. I give them an "A+" for originality.
4. Those Cropped Tops
When I think '90s, cropped tops instantly pop into my heads. Sabrina had tons of cropped shirts hanging in her magical wardrobe. And look who it is pictured with our beloved witch: Britney Spears, the '90s queen of cropped tops herself. If that isn't confirmation that Sabrina did '90s fashion right, then I don't know what is.
5. So Many Tattoo Chokers
If there was any one accessory to have in the '90s, Sabrina knew it was the tattoo choker. There was no way you could do the decade's fashion right without one, and it looked perfect with any outfit. More often than not, Sabrina had a choker fitting snugly around her neck.
6. Crushed Velvet Vibes
Some of the weirdest things were made out of velvet in the '90s. Shoes, dresses, scrunchies... they were all velvet, because nothing was off limits back then. Sabrina was known for wearing crushed velvet a time or two. And man, did she look good in it.
7. Cropped Cardigans Galore
If it could physically be cropped, then it was cropped.
8. Tank Dresses Over Long Sleeves
Again, everything was layered during the age of flannels and babydoll dresses. When Sabrina paired her tank dresses with long-sleeved shirts, she looked like she was born to be a '90s it girl. The only thing needed to complete the look was a mini backpack.
9. Mini Skirts For The Whole Family
Mini skirts and dresses were all the rage back in the day. And it sure seemed like Sabrina had an endless supply of them to choose from. Her aunts even hopped on the mini-everything bandwagon, proving that Sabrina came from a household of trendsetters.
10. A Love Of Shiny Shirts
I don't know where our obsession with shiny clothes and accessories came from, but it was definitely a thing. Sabrina was no stranger to luxe materials, which she paired perfectly with mom jeans.
11. Butterfly Clips Everywhere
Now we know where Lizzie McGuire got her inspo. There is no better example of a '90s 'do.
Sabrina's aesthetic was spot-on with the decade's fashion. It still sucks that we can't go from one look to the next as quickly as she could, but at least her wardrobe is easy to emulate as we experience the '90s revival today.
Images: ABC (11)