The Gender Wage Gap Probably Won't Close In Your Lifetime & There's Even More Depressing News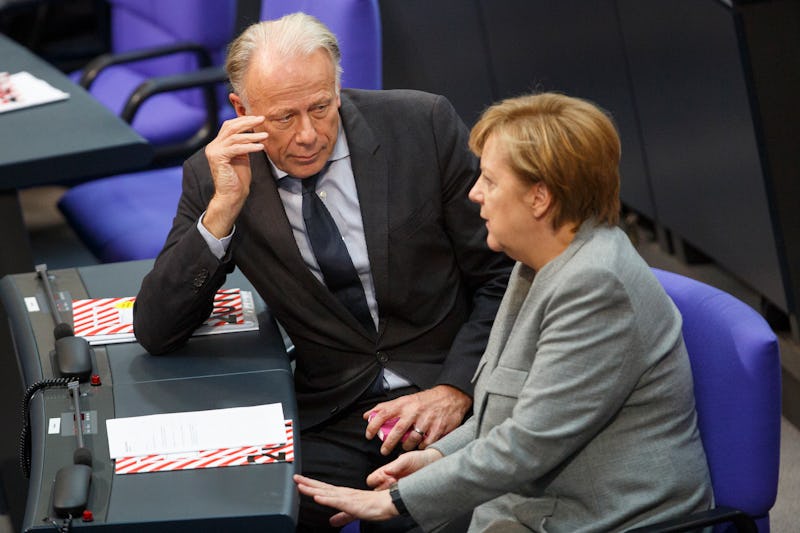 Carsten Koall/Getty Images News/Getty Images
According to a study released Friday, it will take more than 200 years to close the economic equality gap between men and women. The finding comes courtesy World Economic Forum, which concluded in its annual report on gender equality across the globe that, if current trends hold, women worldwide won't achieve workplace and economic parity with men for another 217 years.
Using a variety of metrics, the report looked at gender equality across 144 countries in four discrete categories: health, education, economic well-being (which includes employment status and workplace data), and political empowerment. Each country was assigned a score of 0 to 1 in all of those categories, with 1 indicating perfect parity and 0 indicating no parity. In addition, the forum gave each country a 0 to 1 score on their overall level of gender equality.
Although the report does have some bright spots, the picture it paints is largely a negative one. For the first time in the 11 years it's been conducting the study, the World Economic Forum found that worldwide gender inequality worsened from the previous year to this one. Globally, the gender gap in health outcomes is worse now than it was in 2006, and in terms of political empowerment, only four countries reached a level of more than 50 percent equality between the genders (which, of course, is still a far way from 100 percent).
"This report finds that, globally, gender parity is shifting into reverse this year for the first time since the World Economic Forum started measuring it," the report reads. "This year's analysis also reveals gender gaps at the industry level and, in particular, highlights that even though qualified women are coming out of the education system, many industries are failing to hire, retain and promote them, losing out on a wealth of capacity."
Most strikingly, the forum concluded that it will take roughly 217 years for men and women across the globe to achieve economic equality. It measured that gap by looking at the relative wage levels, income levels, labor force participation and representation in high-paying jobs between men and women across the globe, and came to a depressing conclusion: When it comes to the economic gap between men and women, the world has reverted back to where it was in 2008 after peaking in 2013.
It's helpful, though, not to look at this one statistic in a vacuum. Grouping 144 countries together and looking at the average level of economic equality across them is helpful for a broad analysis, but it also obscures the fact that on the individual level, some countries have made commendable strides toward gender equality in the economic sphere. This includes some nations that aren't generally thought of as bastions of equality: Although Belarus and Rwanda are both authoritarian dictatorships, for instance, each of them nevertheless placed in the top 10 nations in terms of economic gender parity, according to the World Economic Forum's report.
It's also important to distinguish between the time it will take to close the economic gender gap and the size of that gap on an absolute level. The forum found that 58 percent of that gap, on a global level, has already been closed; although there's still a long way to go, that number indicates that the global community is more than halfway along the road to "perfect" gender equality in all areas.
While the organization estimates that it will take 217 years to close the economic gap between men and women, the state of gender equality isn't so dire in other categories. For instance, the report concluded that globally, the gap between men and women's educational opportunities will disappear in a mere 13 years. Moreover, on an individual level, the majority of countries studied — 82 out of 142 — narrowed their overall gender gaps over the last year.
Perhaps the most striking statistic in the report, though, comes from its regional analysis: The forum concluded that at current rates, it will take 168 years for North America to close its overall gender gap — longer than any other region on the planet.