What This Week's 'Catfish' Couple Are Up To Now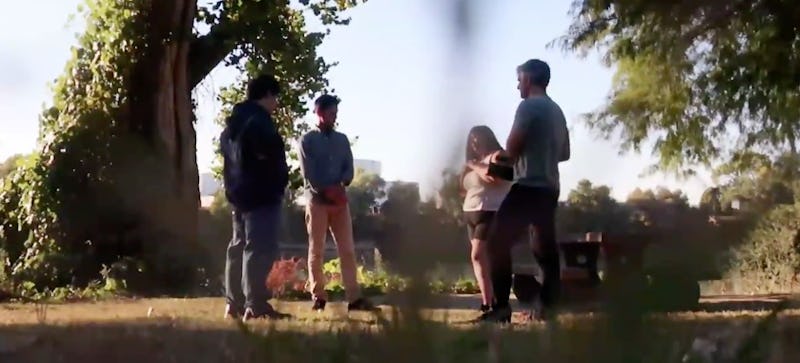 MTV
This week's new episode of MTV's Catfish was yet another classic tale of deception — a tale as old as time, and a heartbreak waiting to happen. Boy meets girl via an online dating site — in this case, MocoSpace. Boy has an incredible set of abs, swoop-y hair and a mysterious aversion to video-chatting or even talking on the phone. Boy also avoids any chance he may have to meet girl in real life. Hmm, it sounds like we've heard this one before. Spoilers for the Jan. 10 episode! Alyssa, the young woman in question, ends up discovering that Tyler is a real man who does have feelings for her — the only thing he's lied about is his appearance. But, she's skeptical of starting a relationship when she's not sure if she can trust him. So, where are Catfish couple Tyler and Alyssa now?
As it happens, it seems downright impossible to glean any information from the social media accounts of these two would-be Catfish (supervising producer: Leanne Mucci) lovebirds. Alyssa was somewhat easy to find on Facebook, but essentially all of her information is private — the last public update was a profile photo change almost a full year ago. It seems like she might just not use the platform regularly, as she only has about 30 friends on her list. Noteworthy, though, is the fact that her "About Me" section states that she is single. Twitter and Instagram searches didn't yield any results — but she has a common name, so perhaps she's just too difficult to find without more information.
The fact that she apparently didn't stick with Tyler is unsurprising, given where they left things. She seemed pretty put out by his decision to lie, and that was all but set in stone when he confessed even more falsehoods as Nev and Max checked in on them two months after filming wrapped.
Despite the fact that Tyler, when they finally met in person, claimed that he had no idea why there were upwards of a dozen profiles linked to his phone number on MocoSpace, he fessed up to Nev, Max and Alyssa that they actually all belonged to him. "I really never used the profiles, I only went on there to play games and stuff like that," he said told them via video-chat at the end of the episode. "I'm sorry I lied. I was just really nervous, and really afraid, and just wanted you to like me."
Tyler didn't seem like a bad guy — just self-conscious after years of torment endured. "It's been rough," he told Nev and Max during the check-in. "But I'm getting through it." Given the facts that his last name isn't readily available and there are likely about a billion men named Tyler in the state of California, I wasn't able to track down any social media of his. It is worth mentioning, though, that he didn't appear anywhere on Alyssa's list of Facebook friends.
I also delved into MocoSpace, an interesting corner of the internet that I'd never heard of prior to this episode of Catfish, to see if I could find out whether or not Tyler and Alyssa still maintain profiles there. Investigation on the site was fruitless, as apparently there legitimately dozens of pages of women named Alyssa in McAllen, Texas. I remain hopeful the two have moved on from that place, though — after the bare-bones account I made purely for investigative purposes was active for only about ten minutes, I had been bombarded with tens of flirtatious messages, not all of them exactly gentlemanly. It seems like a breeding ground for potential Catfish scenarios, and these two lovely young people deserve a better atmosphere to cultivate lasting relationships.
While we certainly wish both Alyssa and Tyler the best, perhaps it's a good thing that they don't seem to be pursuing a relationship with one another. For years, Catfish has driven home the point that lies are the worst foundation on which to build a healthy, adult relationship, and these two have their whole lives ahead of them to start with a blank slate as they search for their perfect partners.