The Next Season Of 'Orange Is The New Black' Takes Place In An ENTIRELY New Setting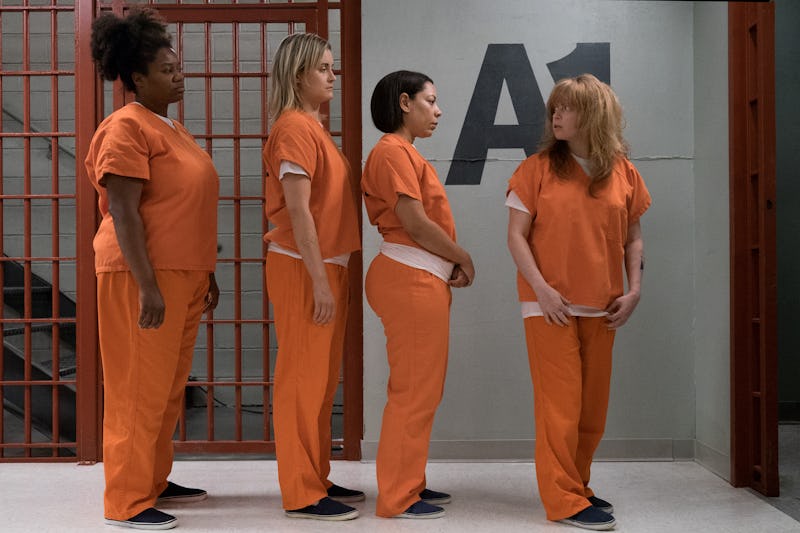 Cara Howe / Netflix
The return of Orange Is the New Black is sure to put a smile on the face of many fans. However, that may very well be the only smile the series doles out for its sixth installment, considering that our favorite Netflix prisoners will no longer be found within the familiar confines of the minimum security block at Litchfield for the next part of their sentence. So where are the inmates in OITNB Season 6? Get ready to see these ladies experience the consequences of that three-day riot.
At the end of Season 5, armed officers were able to make their way into the confines of Litchfield and stop the riot in its tracks. This included the likes of Alex, Piper, Red, Gloria, Taystee, Cindy, Suzanne, Nicky, Blanca, and Freida, who had been hiding out in a secret in-ground pool area of the prison. The Season 6 trailer assured fans that these women manage to get out of that predicament alive (though Alex was suspiciously MIA), but where are they now if they're no longer in Litchfield? They've now been shipped off to the very place they used to be threatened with if they ever misbehaved badly enough: the inmates have been taken to the Max — as in maximum security prison.
To be clear, they're still technically at Litchfield Penitentiary. For the previous five seasons, the women were housed in the minimum security part, which they jokingly referred to as "camp." Judging from comments from the guards and inmates throughout Season 6, Max is just up a hill on the same compound as their previous "home," which is also why some of our favorite guards and administrative staff are filtered through. But just because it might be within walking distance doesn't mean it's anything like what they — or us viewers — are used to.
Aside from Alex, the trailer showcases the inmates adjusting to life in their new environment, and if you thought life in Litchfield was wrong, the Max makes all of that look like child's play in comparison. The old order of things no longer applies here. Those who were once allies may now find themselves as enemies and others who used to be in a leadership position may now find themselves pretty powerless. (Welcome to the bottom of the food chain, ladies!)
Plus, there's the fact that the Litchfield higher-ups are looking to find someone to pin the riot on. So who will end up being the scapegoat? And perhaps most importantly, who will be able to make it out of Max in one piece? These past five seasons have proven that life has never been easy on these characters, but this season is already looking to be the darkest one yet, hands-down.
In fact, Danielle Brooks, who plays Taystee in the series, said as much during a recent interview with DigitalSpy, particularly in regards to her character's Season 6 story arc, which finds Taystee facing some major obstacles from within herself. "The whole season was really challenging because Taystee was pretty depressed this season," Brooks teased. "To give up on her life and want to throw in the towel, and to live in that place for eight months was not the most fun."
But Taystee won't be the only one facing some demons, both inside and out, since there will be newfound dangers lurking within the confines of Max and disrupting the prison hierarchy we've come to know. "We left season five seeing the inmates split up and now we're all relocating to Max," Brooks explained during the same interview. "So you're going to see all [of us] being fishes out of water, forced to reinvent ourselves in a new prison setting and forced to start up new relationships."
It's definitely sad to know that their minimum security days are a thing of the past, but it is intriguing to think what these women will do in a brand new environment. These inmates have proven to be survivors — and that's not something even time in Max can change. At least, let's hope not.