Ariana Grande's New Perfume Inspired The Couples Tattoo She Got With Pete Davidson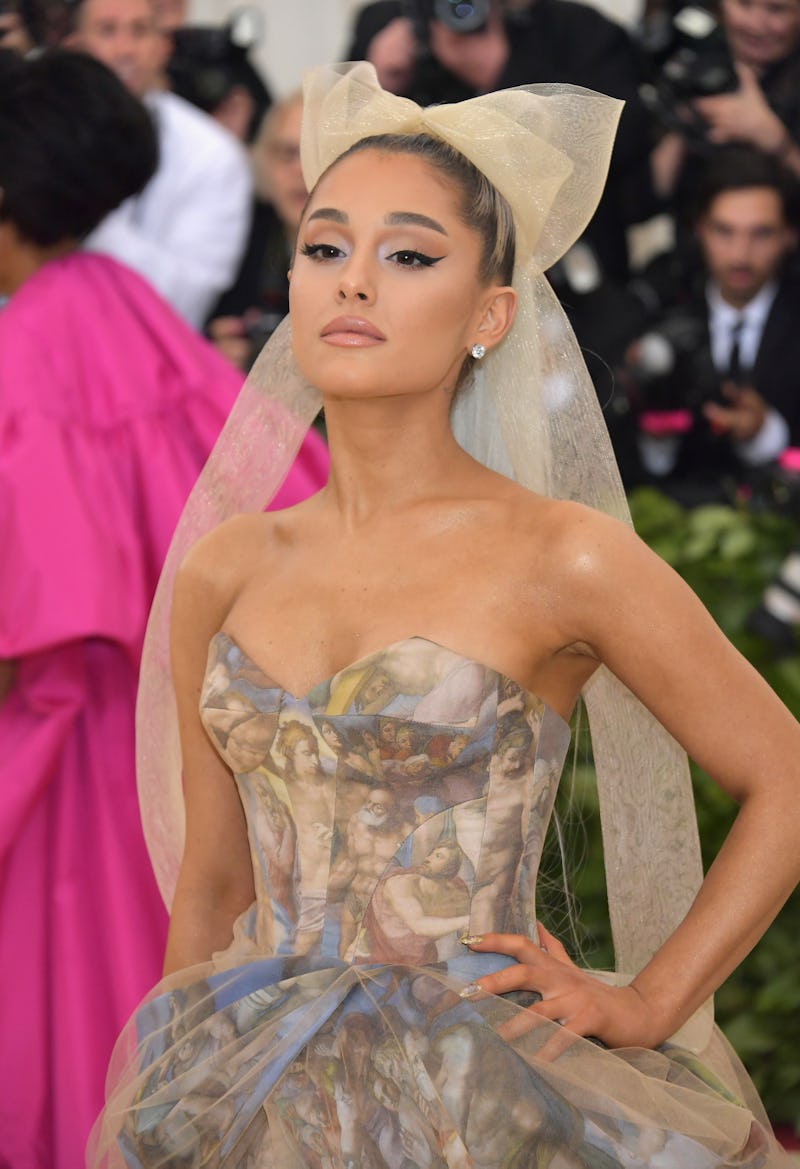 Neilson Barnard/Getty Images Entertainment/Getty Images
Arianators are about to ascend to cloud 9! Ariana Grande's Cloud perfume will be exclusively sold at Ulta as of Sept. 1. Woo hoo! Since the ponytailed singer is floating on some serious romance clouds with her new fiance Pete Davidson as she prepares to release her eagerly awaited new album Sweetener, it's the perfect time to drop a brand new fragrance. It's two months away but that time frame will fly by!
Grande first teased the Cloud bottle on her Instagram story a few weeks ago. Since then, her fans have been curious about what's next with the scent and if it's inspired by her new beloved. Of course Arianators are all sorts of wrapped up in her whirlwind, passionate romance with Davidson since they are absolutely adorable together. But Grande is also a businesswoman with a new album on the way and she is striking while the iron is hot and while all eyes are on her. It makes "scents" to factor a new perfume release during a high profile period. Get 'em, girl!
Grande, who often posts cloud imagery and emojis on her Insta and reportedly has matching cloud tattoos with Davidson, was integral in the creation of this perfume. Women's Wear Daily reports that she was hands on in developing the scent.
She didn't show up at the lab, throw on a hair net and some goggles, take a few whiffs, pose for a photo opp, and give the end result a thumbs up. She was intricately involved in the process.
So, what does Cloud smell like? Well, it boasts top notes of lavender blossom, juicy pear, and bergamot. That's a delish start. Its middle notes are heart of crème de coconut, praline, and vanilla orchid. That sounds warm, rich, and inviting. The dry down is also warm and sultry featuring sensual musks and creamy woods. Mmm!
Are you totally stoked to spritz this on your pulse points or perhaps into the air and then walk through the "cloud" so you hair, clothes, and skin soak in the scent?
Cloud will cost $20 for an 0.33 oz. purse spray and $59 for a 3.4 oz. bottle. So there are options for versions and budgets.
"I love clouds, and I love this new fragrance. It is my favorite one yet," said Grande in a statement, as noted by WWD.
This is Grande's fourth fragrance and it differs from prior offerings in many ways. The Cloud bottle parts with the puffy pom pom that was attached to Sweet Like Candy, Frankie, and Moonlight. It also nixes the diamond-cut (and sometimes dipped) silhouette. Instead, Cloud's packaging is cloud-shaped. Because duh!
Cloud could be expanded to include other products, according to WWD. It's said to be a more sophisticated scent than her previous, super sweet, and young-skewing Eau de Arianas. She is growing up and so are her fans. This perfume is almost a marker of that close and connected relationship between Grande and Arianators.
The oversatured celeb fragrance market has been on the down trend in recent years — gone are the days when Taylor Swift, Britney Spears, Justin Bieber, and Jennifer Lopez were dropping scents on the regular. But Grande is giving the category a boost with her latest fluffy fragrance.
Per WWD, experts are even predicting that this particular perfume could earn around $50 million in receipts during its first year on the market! Wow! That's the Ariana Effect — in effect.
Grande's perfumes have traditionally done well, having earned around $150 million across the three scents, as well as limited edition varieties that have come and gone. Obviously, Arianators want to wear scents inspired by and created by their heroine.
Notice the cloud emojis in the caption this selfie vid! Those are recurrent.
Cloud arrives soon after her new album drops, so it's a one-two punch for the singer. It will only be available at Ulta in the U.S. to start, since "our guests have loved the Ariana Grande family of fragrances and we expect nothing less with the latest addition, Cloud," said Penny Coy, vice president of merchandising for prestige skin care and fragrance at Ulta Beauty.
Move over, sunny skies. There are some delish-scented clouds rolling in this September courtesy of Ariana Grande.