These Lippies Have Tiny Kitten Faces In The Bullet & They're Totally The Cat's Meow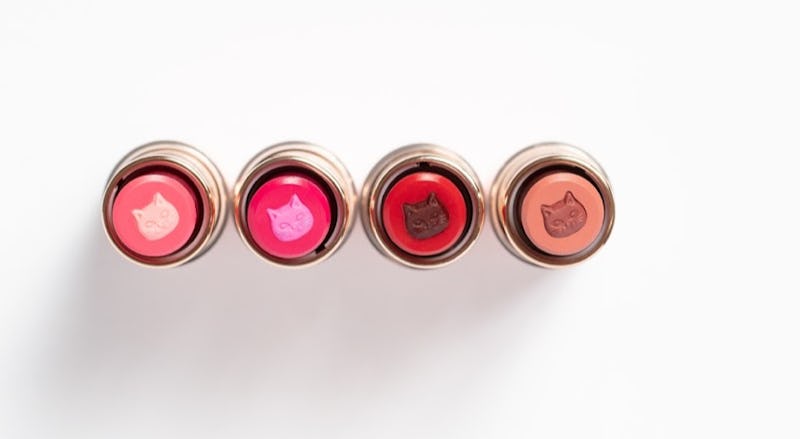 Courtesy of Winky Lux
If you are a cat lover, these lipsticks are peak purr-fection, er, perfection. Winky Lux's Purrfect Pout Lipsticks feature cat heads stamped onto the tip of the slanted, flat bullet. These Instagrammable lippies are almost too cute to use — almost. You don't need to be an avowed cat person to fall truly, deeply, and madly in love with these lippies — although it helps.
However, the shade range is so good and the formula is so supremely moisturizing that even the most ardent dog loyalists will be lining up to grab a tube or three.
There are four shades in this feline-inspired collection. Each lippie is $16 and is available for purchase at the brand's site. The formula is packed with lip-loving ingredients like Jojoba Oil and Vitamin E. With the cooler temps and dry air on the horizon, you need a hydrating, color-imparting lippie such as this in the pocket of your fall-ready denim or leather jacket.
The hues are sheer but they still pack a powerful pop of color. The overall presentation is playful — like a kitten chasing a ball of yarn.
If you are looking to upgrade your lipstick or lip product wardrobe for the newly-arrived autumn season and happen to adore cats, well, you just found your favorite lipstick capsule collection.
Here's an up close and personal look at both the texture of the lipstick itself and that adorbs kitty face. Too cute, right?
You might think twice about swiping it across your pucker and thus causing the detail, like the whiskers and eyes, to smear. That's to be expected with usage. It's a true trade off. The whiskers get smudged but your lips look amazing.
These are the most Instagrammable lipsticks available RN. You will def want to 'Gram a shot of the tip before and after use.The rose gold case, which features the brand's name at the bottom, is also totally chic.
1. Pawsh
2. Purrincess
3. Fur-Ever
4. Kiss & Tail
This lip swatch of Kiss & Tail further demonstrates the depth of the pigment and the rich, creamy formula.
Purrincess is so stunning IRL, isn't it? These lippies may be sheer but they still lead to a statement lewk.
Fur-Ever brings that subtle drama.
These Winky Lux lippies are not solely for accentuating your pout. They are also conversation starters. All you have to do is whip out your tube and show someone the tip. It's guaranteed to get a reaction — on lips and off.