This 'Beauty & The Beast' Song Isn't Out Yet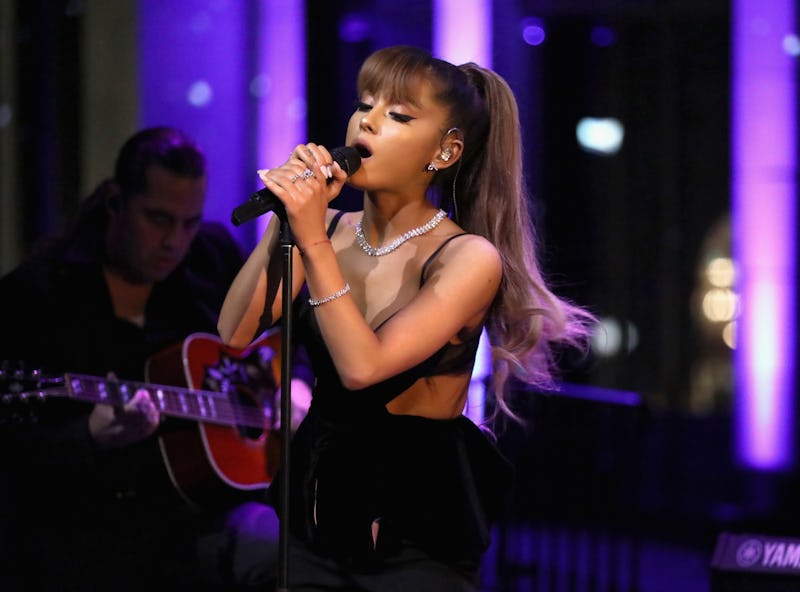 Handout/Getty Images Entertainment/Getty Images
I don't know about you, but I am fully hyped for Disney's live action remake of Beauty and the Beast, which is finally hitting theaters this March. My excitement increased tenfold on Monday night, when the final trailer for the film premiered, giving us a better look than the shorter promos that have aired already. If you've seen the trailer, you probably noticed that it featured a pretty sweet cover of the film's title song, "Beauty and the Beast" being performed by two very familiar voices. So if you're wondering where to get Ariana Grande and John Legend's version of "Beauty and the Beast," you're definitely not alone. Update: The song is now available to listen to online on Spotify, iTunes, and VEVO.
Earlier: But unfortunately, the answer to that question may not be what you want to hear. The full version of the song isn't yet available to download or stream anywhere, which means the only way to hear it right now is by watching the trailer over and over again... which just so happens to be something I'm doing anyway. It's an awesome take on a song that was a part of so many people's childhoods that it's surprising it wasn't released when the trailer aired, but I'm hoping that it's coming sooner rather than later.
The good news? No matter what, you won't have to wait until the movie hits theaters to hear the song in full. The Beauty and the Beast soundtrack is out March 10, and not only does it include Grande and Legend's song, but also new music from Celine Dion. And if you consider how amazing the clip of Emma Watson singing "Something There" that was released last month, and basically, this album is guaranteed to be amazing.
And hopefully, when the soundtrack releases, it'll be on Spotify and Apple Music, because I'm going to need to blast this from my car for at least a month.
If you need me, I'll be counting down the days 'til March 10... and then March 17, when the movie is out. Emma Watson, don't let me down!