There Are Three New States With Some Form Of Legal Marijuana Thanks To The Midterms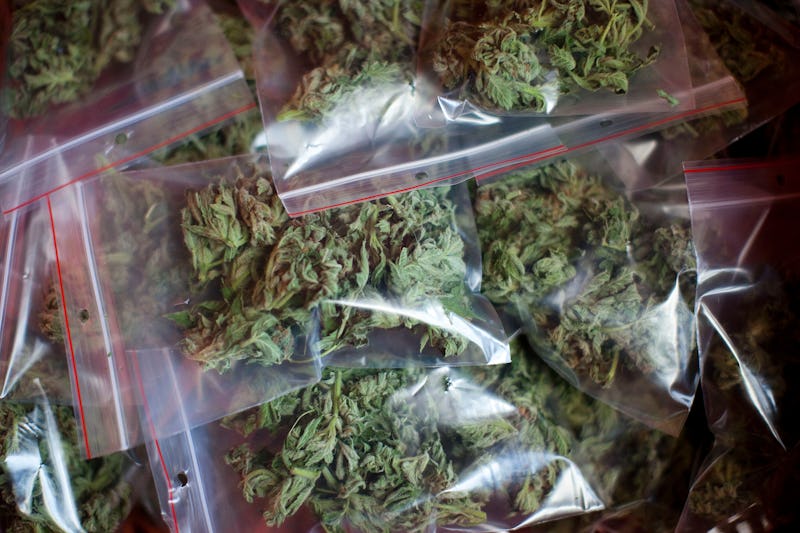 Uriel Sinai/Getty Images News/Getty Images
The 2018 midterm elections had the potential to change a lot in the United States — and one very concrete area where that was the case was with marijuana legalization. There were four states with statewide marijuana legalization on the ballot for either medicinal or recreational use, so it's natural to wonder where weed became legal in the 2018 midterms.
On Tuesday, voters in two states — Michigan and North Dakota — were deciding whether to make marijuana legal for recreational use, according to Yahoo Finance. And in Utah and Missouri, Yahoo Finance wrote that there was a ballot initiative to legalize pot use for medicinal purposes. Besides that, Rolling Stone described how there were numerous other local measures in California, Ohio, and Wisconsin that could have an effect on the way various cities and counties deal with regulating marijuana sale or punishing its use.
Going into this midterm election, recreational marijuana was legal in nine states plus Washington D.C., according to the Guardian — and another 22 allow it only for medicinal use. Now that the 2018 midterms are in the past, 10 states will soon be allowing recreational in addition to medicinal marijuana, according to Wired, and 33 total states will allow it to be used medicinally. This result could have very important repercussions for the progress of pot legalization in the United States.
The only ballot measure regarding pot legalization that failed was in North Dakota, where voters were deciding whether to expand legalization from strictly medicinal usage to recreational usage as well, according to Time. While recreational marijuana won't become legal in North Dakota just yet, this doesn't change its status as legal for medicinal use.
Overall, though, those behind the cannabis legalization movement are pleased with the way things went on Tuesday, according to Wired. So far,Wired wrote, this process has happened incrementally and from the bottom-up, with far more voters in favor of full legalization than politicians — but given enough popular support, theoretically politicians should be more supportive of federal legalization.
And now, America might get to see if that proves to be true, at least in the House; Texas GOP Rep. Pete Sessions lost to Democratic challenger Colin Allred, who has expressed supported for legal cannabis legislation in the past. According to the online news source Marijuana Moment, Sessions was responsible for blocking all marijuana-related legislation from coming up for a vote in the House because of his position leading the House Rules Committee. With a new Democratic chairman on that committee, things have the potential to change.
On Tuesday night, though, legal weed wasn't only on the ballot in the form of those four referendums. According to The Boston Globe, voters in various states and municipalities across the country expressed their support for cannabis legislation reform. This came in many forms, like by voting decriminalization in their home cities or by supporting candidates for statewide or national office who have expressed their support for — or even campaigned on — platforms that included weed legalization. Even if marijuana isn't legal in your state yet, this election should give you optimism for the future.