Jordin Sparks Has Done So Much Since 'American Idol'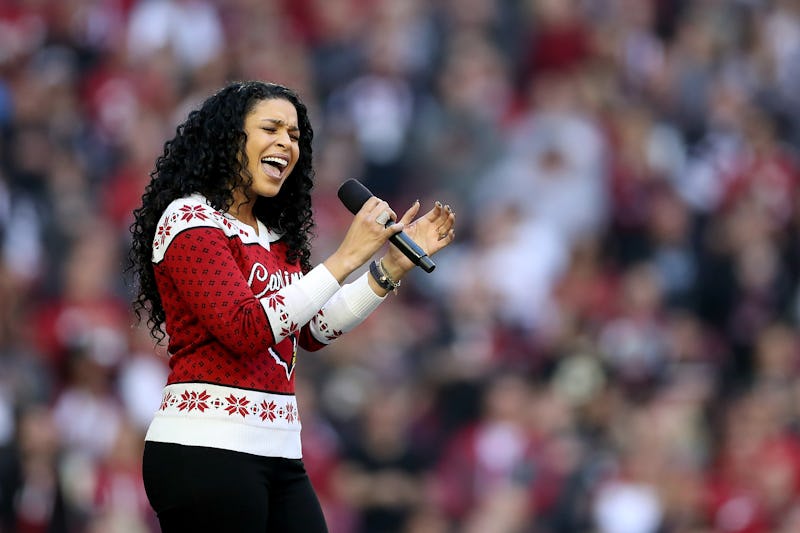 Christian Petersen/Getty Images Sport/Getty Images
As an all-too-frequent listener of 2000s pop Pandora radio, I'm very interested in knowing where Jordin Sparks is now. The singer is very close to my heart... just like a tattoo. (I had to.) After winning the sixth season of American Idol in 2007 and breaking records as the youngest-winning contestant at age 17, she became an underrated pop queen of the late 2000's. More specifically, she reigned in 2007 like no other, with her chart-slaying hits "No Air," "One Step at a Time," and "Tattoo." Her self-titled debut album (2007) and second studio album Battlefield (2009) both debuted in the top 10 on the Billboard charts. But it's been a while since fans have seen her and her work at least at the mainstream level.
While Sparks has the pipes to back up the numbers, she also took her talents elsewhere and later appeared on Broadway's In the Heights in 2010 and on the big screen in Sparkle (2012). Meanwhile, she put her entrepreneurial hat on and released three perfumes from 2010-2012. But, unfortunately for a while, her career was overshadowed by a very public relationship and breakup from fellow performer Jason Derulo in 2014, after a few years of dating and that sexy "Marry Me" video.
After her split from Derulo, Sparks still worked on music and even allowed the experience to influence her 2014 mixtape #ByeFelicia. In 2015, she released her third studio album Right Here Right Now, which wasn't as successful as her first two albums, but still landed on some charts (including 11 on the US Billboard R&B/Hip-Hop albums). But fans who continue to follow the 27-year-old know that she's been taking this time in her career to explore some paths beyond singing.
While it looks like Sparks is still hitting the recording studio, she's focused her energy on a new venture: lifestyle. While focusing on maintaining a healthy lifestyle and getting fit, the performer has her own Instagram page Jordin Sparks Fit Journey for fans to follow along. She recently partnered with fitness brands like Bandier and has been out and about rocking a FitBit. From the looks of her Instagram, she is also currently partnered with Herbalife Nutrition, promoting products like protein powders and concentrates, as well as brands like Sweetz Cold Brew Coffee and Sweetarts.
Last year, her own cooking show Sugar and Sparks was briefly picked up by Food Network, chronicling the singer's dream to own her own bakery. Sparks has a new app, which will have exclusive content like music and cupcake recipes, and allows fans to share their content as well.
When looking back at the singer's career, her newfound passion isn't so far-fetched. Before Idol, Sparks was a model for plus-size line Torrid and has always been an advocate of promoting healthy body image and embracing her curves. Although Speezys would love more music, it's great to see the artist focusing on being healthy and happy.