How Lee Miglin's Widow Refused To Let Andrew Cunanan Stop Her From Living Her Life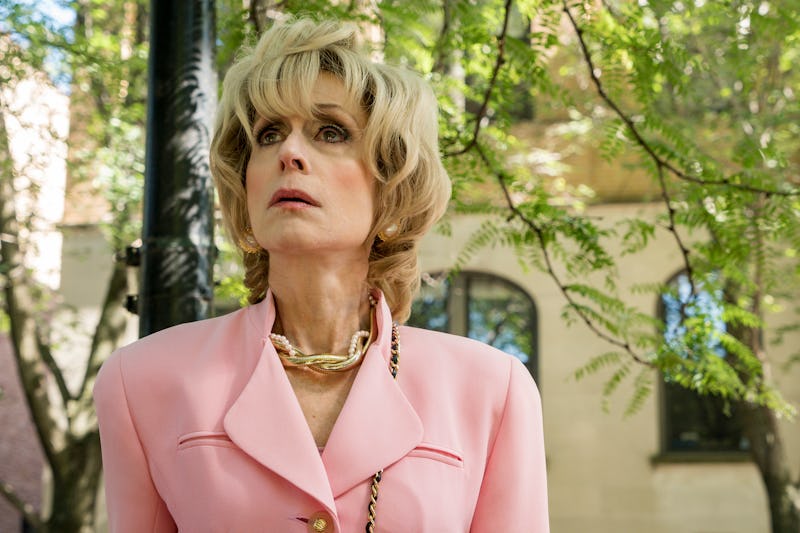 FX Networks
Spoilers for Episode 3 of American Crime Story. Though the show American Crime Story: The Assassination of Gianni Versace (associate producer: Linda Favila) bears a famous name, the fashion designer is just one victim whose murder is addressed. Real estate magnate Lee Miglin was the alleged third victim of Andrew Cunanan, according to Harper's Bazaar, and is also portrayed in the newest installment of the Ryan Murphy anthology. His name may ring a bell for some fashion and beauty experts, as Miglin's wife is a famed fragrance entrepreneur. What is Marilyn Miglin doing in 2018?
The successful businesswoman, portrayed by Judith Light on ACS (associate producer, 9 episodes: Meredith Meade), still runs her company to this day, according to the line's website. Known as simply "Marilyn Miglin," the company doesn't just make perfumes and colognes, but also cosmetics, accessories, and various skin care products. Her products are also longtime staples of the Home Shopping Network. It's noted on her website that Miglin is "among the nation's top-500 women business owners," 21 years after her husband's tragic murder. It also states that her signature fragrance, Pheromone, is one of the top 10 fragrances sold in luxury department stores across the country.
Miglin kept the company growing even after the heartbreak of losing her husband in 1997. According to Maureen Orth's 1997 Vanity Fair article about Cunanan's alleged spree, Lee was tortured and murdered by Cunanan, his body found under a car in Miglin's own garage. Miglin had been out of town when her husband was killed, and was alerted that something was wrong when he didn't come to pick her up at the airport. She found another way home before finding what appeared to be a gun in the bathroom and calling the police, according to the magazine. There were no signs of forced entry at the Miglin home. Marilyn Miglin and the rest of her family have maintained that Andrew Cunanan was unknown to both Lee and her son Duke, though outlets at the time attempted to find personal connections between them.
"I don't think you heal — you never close up that gaping wound — but you adjust," Miglin told the Chicago Tribune in the year following the murder. "I lived the life of a fairy princess and I had a prince for 38 years, and then one day my prince went to war and didn't come back." Miglin poured her attention even more into her work after her husband's murder. She chose not to take a break, but to continue to oversee her $50 million beauty empire, according to the Tribune. The paper also noted that she was expected by many to become more private in the time following the murder — to be behave how the media and public expected a grieving widow to behave. But Miglin told the newspaper that taking on that persona wouldn't have been helpful in her situation.
"Weeping publicly wouldn't have been good for me or my family," she said to the Tribune. "It would have a rippling effect... someone had to take charge." She also, according to the same article, refused to sell her home in the wake of the tragedy. "I will not let one evil force run my life," she told the Tribune. "I won't acquiesce to that. Not ever."
In recent years, Miglin seems to be focused on her work and has stopped commenting on her husband's death. Other members of the Miglin family have been interviewed by the press, but it's been difficult to find any recent interviews with the matriarch herself. She also doesn't appear to have commented on American Crime Story's portrayal of her or her husband, though she very well may have something to say after more time passes.