Eugenie & Beatrice's Relationship Differs To William & Harry's In A *Major* Way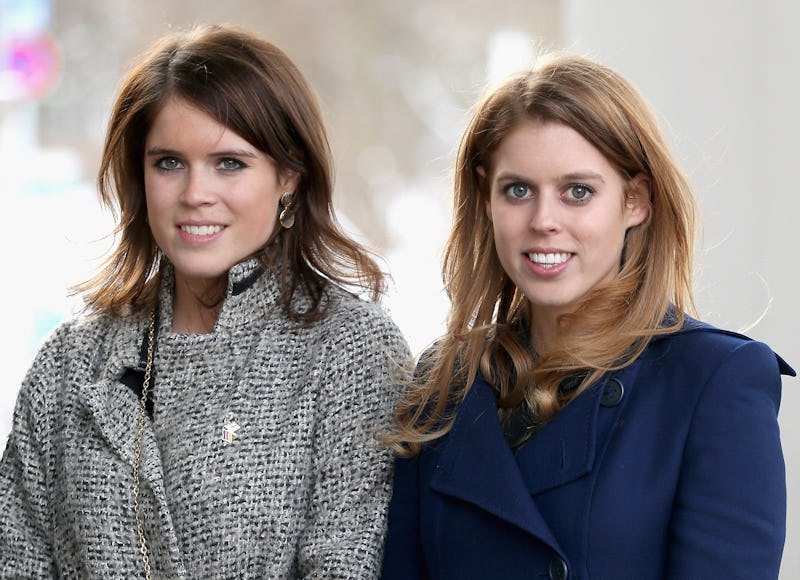 Chris Jackson/Getty Images Entertainment/Getty Images
The relationship between siblings can go one of two ways: either super close or incredibly distant. When it comes to the royal family, the former seems to be the most common. Princes William and Prince Harry, Zara and Peter Philips, and Princesses Eugenie and Beatrice all give the impression that they have a tight-knit bond. Given that all eyes are currently on a certain bride-to-be thanks to her upcoming wedding to Jack Brooksbank, I'd like to know what Eugenie and Beatrice's relationship is really like.
While an age difference can complicate matters, the two princesses are only 21 months apart, allowing them to form an even closer bond. In fact, the two used to live together in a four-bedroom apartment in the confines of St James's Palace. It wasn't a fight that caused them to alter their living arrangements but the fact that Eugenie moved into Kensington Palace's Ivy Cottage with fiancé Jack Brooksbank.
Even though they no longer live together, they are clearly still close. In fact, 30-year-old Beatrice has been asked to be her younger sister's maid of honour at her royal wedding next month. That means she will have the task of organising the hen do (do royals have hen dos?) and making sure everything goes right for the bride on her big day.
Although Beatrice and Eugenie are evidently just as close as their cousins William and Harry, their bond differs in one major way; the princesses are not working royals. This means they are not colleagues, have no obligation to carry out engagements on behalf of the Queen, and are free to have whatever careers they wish. (However, they do still make an appearance at royal events.)
As Hello! reports, Eugenie has chosen a career in the art world and currently holds the position of associate director at a London art gallery. Beatrice, on the other hand, is a business consultant. Seeing as they are two of few young royals to dip a toe into the non-royal world, they have chosen to stick together.
"We are the first. We are young women trying to build careers and have personal lives, and we're also princesses and doing all of this in the public eye," Beatrice said in a recent interview with Vogue. Anyone in that position would need a like-minded person to cry, laugh, and complain with.
Although the two sisters use each other as a soundboard, their personalities are pretty different. "I do have an occasional temper," Eugenie admitted to The Telegraph in 2008. "I am definitely not as polite as Beatrice. I tell it as it is."
Eugenie also told the paper the two have a totally different fashion sense: "[Beatrice] loves her glamorous dresses. I like just throwing on a pair of jeans and generally being understated." Despite saying "we're chalk and cheese," Eugenie did add that she and her sister "get on fantastically well, because we do and think different things."
It's a similar story for William and Harry. The pair have been extremely close since childhood — especially after their mother, Princess Diana, tragically died in a car crash in 1997. As adults, they have worked together in various charitable pursuits, choosing mental health as their number one passion. They also live close to each other (just next door, in fact) and took on the best man role at each other's weddings.
They, too, have different personalities. Harry has always been known as the louder and wilder brother, with William taking on much of the responsibility of being the future king. Just like Beatrice and Eugenie, this only seems to have helped solidify their bond.
"Our relationship is closer than it's been because of the situation we've been through," William said at a charity event in January. "Losing our mother at a young age, it's helped us travel through that difficult patch together. You're like-minded. You go through similar things. It's a bond and it's something you know you've tackled together and come out better for it."
When dealing with this kind of public scrutiny, it seems only natural for royals to turn to their sibling for support. After all, who better to trust?