Here's What You *Really* Need To Know About Stormy Daniels Ahead Of 'CBB'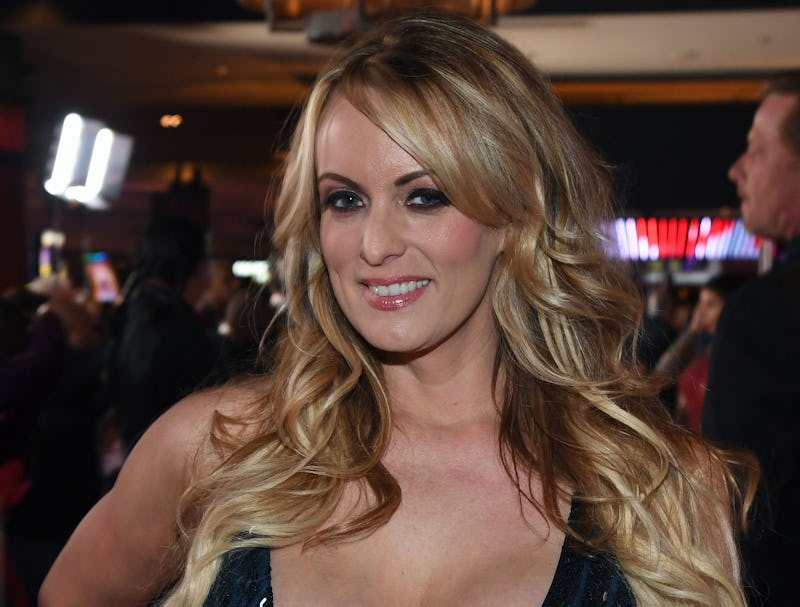 Ethan Miller/Getty Images Entertainment/Getty Images
As the summer 2018 series of Celebrity Big Brother prepares to kick off, attention has turned to who will be entering the house. While zero names have been officially confirmed, there are plenty of rumours. And one of the potential housemates is set to be a woman who has caused plenty of headlines over the past few months. But just who is Stormy Daniels?
Born Stephanie Clifford, Daniels is renowned for her work in the adult film industry. At the age of 17, New York Magazine reports that she began working in a strip club in Louisiana and quickly progressed to starring in — and directing — pornographic films.
Although this would be enough to earn her a spot in the CBB house, it's Daniels' recent history that caused her to really hit the limelight. In January, the Wall Street Journal reported that the 39-year-old had been paid a sum of $130,000 (£102,000) by Donald Trump's lawyer Michael D. Cohen to remain quiet about an affair she alleges she had with the real estate mogul. Trump has denied the affair, though Cohen has since acknowledged that he paid Daniels this figure out of his own pocket, the New York Times reports.
Trump is now suing Daniels for breaking the terms of an NDA, according to the New York Times. She is countersuing the President, arguing that the agreement is invalid as Trump failed to sign it, as noted by the Hollywood Reporter.
Daniels is far more than just another player Trump's narrative, however. As New York Magazine reports, she has starred in 275 adult films and directed 91. The actress has also won 19 awards for her acting work and seven accolades for her directorial talents.
She demonstrated a feminist stance in an interview with The Cut, admitting that she had a problem with the sexist terminology that permeates the film industry. "For years everyone was like, 'Stormy Daniels, she's the best female director.' That's always bugged me," she commented. "What does my vagina have to do with directing?"
And that's not all. Producer Judd Apatow was so impressed with Daniels' demeanour that he cast her in three of his films: The 40-Year-Old Virgin, Knocked Up, and Pineapple Express. "She's very nice and super smart and great to work with, so we kept asking her to be in all of our movies," he told Conan.
In 2009, Daniels publicly considered getting into politics by taking on Louisiana senator David Vitter. She embarked on a listening tour of the state and campaigned for things like tax reform and sexual health education, but ultimately decided not to go ahead with the race.
Two years later, the star gave birth to a daughter and opened up about the public reaction to a porn star becoming a mum. "I keep people at a distance because I don't want them to find out what I do and then punish my daughter for it," she told the Daily Beast, adding that she will tell her child about her job and explain that "some people don't approve of [it], but [she's] proud of it."
According to The Sun, Daniels will be the highest paid contestant to ever appear on CBB with reported earnings of £750,000 for just one week. But if you're hoping for some salacious details, don't get too excited as the star has tweeted that she won't be appearing on the show to talk about Trump.
"For those excitedly believing I am going on a reality show to talk about Trump, I hate to rain on your parade," she wrote. "That is absolutely not gonna happen. I never said that."
Of course, that doesn't mean she won't be appearing on Celebrity Big Brother all together. Watch this space.
Celebrity Big Brother launches on August 16 on Channel 5 at 9 p.m.