Why You Can't Be Mad At The 'Game Of Thrones' Cast For Missing The Emmys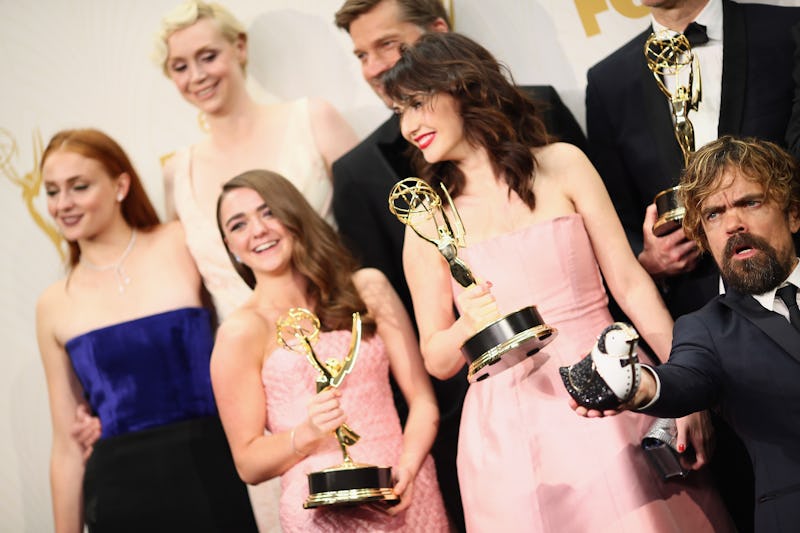 Mark Davis/Getty Images Entertainment/Getty Images
In the TV world, there are two things that almost always go hand in hand: Game of Thrones and awards. The hit HBO show has picked up numerous honors over the past seven years, for everything from its must-see acting performances to its stellar, jaw-dropping writing. So it came as a major surprise to some viewers that Game of Thrones wasn't nominated for any Emmys this year — and an even bigger shock to realize on Sunday night that wherever the Game of Thrones cast is on Emmys night, it's not at the show.
The cast isn't at the awards not because they're all pissed off they weren't nominated — the truth is that they actually couldn't be nominated, because Game of Thrones wasn't eligible for any Emmys this year. The award show's eligibility period was from June 1, 2016 to May 31, 2017, and Game of Thrones Season 7 premiered this past July — meaning the cut-off date for it being possible to get awards had long since passed. As such, the show wasn't "snubbed" or overlooked for any awards at this particular show, but ignored simply because of a rule situation. So with that in mind, it'd be quite silly for any of the cast members to not attend solely based on the fact that their show isn't up for any honors.
The actual reasons the actors are M.I.A. make a lot more sense. For the most part, the lead stars of Game of Thrones are busy with other projects, whether on film or TV. Maisie Williams, for instance, who plays Arya Stark, just wrapped filming the day before the Emmys on X-Men: The New Mutants. Sophie Turner, meanwhile, aka Arya's sister Sansa, has been busy traveling all over the world, if her Instagram is to judge. Those trips could totally be just for fun, but it's also fully possible that they're for work, since Turner has a full roster of upcoming films like X-Men: Dark Phoenix and Time Freak.
As for the two ladies' Game of Thrones co-stars, like Kit Harington (aka Jon Snow) and Peter Dinklage (aka Tyrion Lannister), they're also likely busy working on upcoming projects. Dinklage has several major movies in the works, both dramas and comedies alike, while Harington is in the midst of filming a TV mini-series as well as a drama co-starring Jessica Chastain and Natalie Portman.
In other words, the stars of Game of Thrones aren't missing the Emmys just because they feel like it or are holding a grudge against the awards — they're most likely all busy filming things or dealing with other necessary work commitments. And hey, that's actually a really good thing. We want the talented actors of the show to keep being in our lives after Game of Thrones ends next season, right? It's essential that they sign on to other projects, and stay busy no matter what happens to their characters in the world of Thrones.
So while it might be sad to see a red carpet full of television's best actors not containing any of the major stars from Game of Thrones, fans should take comfort in knowing that it's for the absolute best reason. These actors are busy taking on big projects and getting more and more famous, so that one day in the future when Game of Thrones is no longer on our TV screens, the stars will still be in our lives no matter what. And really, what more could we want than a pop culture landscape full of the people behind Arya, Sansa, Cersei, Jaime, and so many more?