Sorry, 'Game Of Thrones' Fans, But Maisie Williams Has The Best Reason For Skipping The Emmys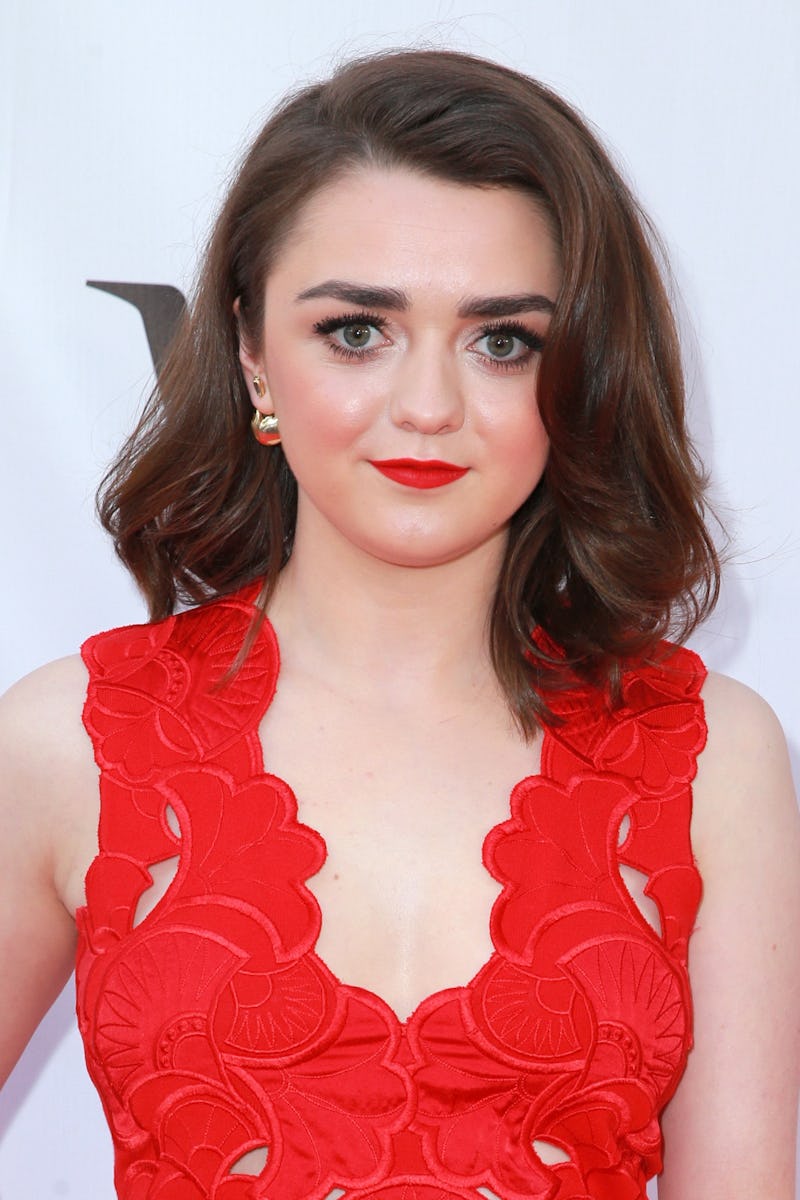 Rich Fury/Getty Images Entertainment/Getty Images
Not only are Game of Thrones fans not going to see any Emmy wins for the show on Sunday, but now Maisie Williams isn't even at the 2017 Emmys. Basically we fans are being deprived of GoT all around. But, there are good reasons behind both of those disappointments, and the explanations may help ease the pain (a little). First off, Game of Thrones wasn't snubbed or anything in terms of nominations, the show just premiered too late to land in the eligibility window. But, next year is likely to be a big awards season for the show since Season 7 will be eligible for that, so there's sometime to look forward to. As for why Maisie Williams isn't at the Emmys — well, she's pretty busy doing other cool things, and her show isn't nominated so there's not much reason for her to attend. Other then to, like, entertain all of us, and she shouldn't feel obligated to do that at all.
Williams isn't just known for her GoT character Arya. The actor is also set to appear in X-Men: The New Mutants (due out in 2018). And, as Entertainment Weekly reported, filming on the movie just wrapped yesterday in World's End, Berkshire, which is filming in England. Williams posted a photo to Instagram to celebrate the end of filming just yesterday.
So, with such a major project coming to an end, it's unlikely Williams jumped on a plane straight away to fly to California. After all, she's not nominated, so there'd be no reason for her to risk that jetlag. Also, if she's not still finishing up on location, she deserves a hearty break after wrapping filming — which I'd suspect would mean she'll head home to Bristol, England for a bit of time off. Let's not forget that soon she'll have to be back at it filming for Season 8 of Game of Thrones, so I wouldn't fault her at all if she chose to take a break from industry events in the meantime. And, X-Men isn't the only project Williams has coming up. In addition to playing Wolfsbane in that superhero film, Fans can soon catch her in Departures and Early Man, also coming in 2018, according to her IMDB page.
Williams isn't the only Game of Thrones star who is likely to be MIA on the Emmys red carpet on Sunday night. Kit Harington, who plays Jon Snow in the HBO series, has been spotted recently in Italy filming as brand ambassador for fashion brand Dolce and Gabbana — and it's unlikely he'd fly across an ocean to appear at an event he's not nominated for.
Williams' on screen sister Sophie Turner, who plays Sansa Stark, will also likely skip the TV awards event. She was last seen out late in New York (possibly for Fashion Week), and likely wouldn't have been up that late if she had a quick flight to LA the next day, especially since, again, GoT isn't nominated. So, the Stark sisters will probably be sitting this one out together. (Well, not "together" as in they're hanging out together — but they will both not be in attendance).
It's a rough awards season for Game of Thrones fans, between the lack of nominations and, therefore, the lack of stars showing up for awards ceremonies. But, we all just have to be patient and wait for 2018 — because the carpets and the stage are going to be lit with all your GoT faves ready to accept their awards for Season 7. Just think of this as a nice little break for them before everybody gets back to business in 2018.