The First 'Dirty John' Trailer Will Make You So Worried For Connie Britton's Character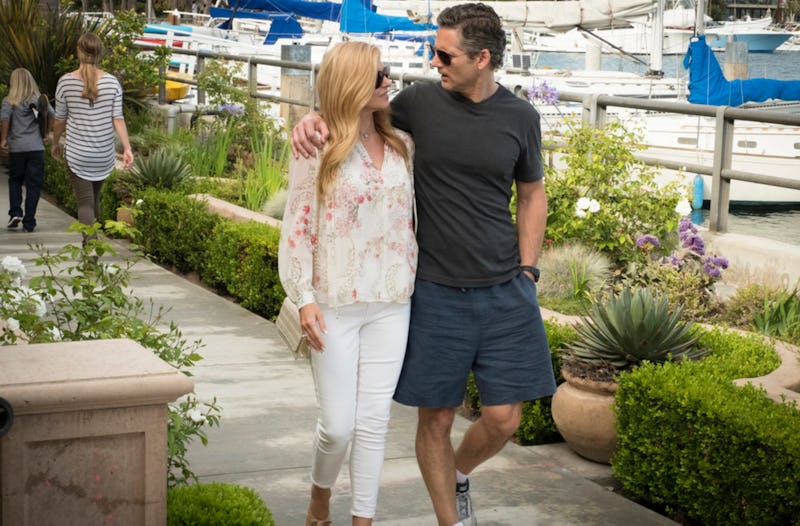 Nicole Wilder/Bravo
Get ready to never look at Eric Bana the same way again. The official trailer for Dirty John has been released, and "intense" feels like an understatement. The preview kicks things off with a body lying in a pool of blood, and ends with Connie Britton's character staring at her front door in fear, and uh, it's probably safe to assume this retelling of Debra Newell's harrowing story will be the opposite of mild. Bravo's anthology series based on Christopher Goffard's true crime podcast and Los Angeles Times report will premiere on Nov. 25.
Starring Britton, Bana, Juno Temple, Julia Garner, and Jean Smart, Dirty John tells the story of a successful interior designer who strikes up a relationship with a man who is not quite who he initially seems to be. And then, things take a turn for the dire. Now, if you haven't listened to the podcast, but would like to know a little more about the premise, you are in luck. Bravo has provided a relatively spoiler-free synopsis in the press release:
"Based on the articles and breakout true crime podcast with over 30 million downloads from Los Angeles Times reporter Christopher Goffard, the series tells the cautionary tale of how a whirlwind romance between Debra Newell (Britton) and the charismatic con-man John Meehan (Bana) spiraled into a frightening web of deception, denial and mental terror that nearly tore a family apart."
And if you have listened to the podcast, do you remember what was maybe the creepiest scene involving Ovaltine ever? Well, assuming that mug in the preview for the Dirty John anthology series is full of a certain chocolate-flavored milk beverage, then it looks like the show will also deliver the heebie-jeebies with a side of Ovaltine, too.
When speaking at a Television Critics Association press tour panel in August of this year, some members of the Dirty John team hinted at what viewers can expect from the small screen adaptation. According to the L.A. Times, Dirty John showrunner Alexandra Cunningham told attendees that the TV series will go "deeper on the things maybe the podcast just touched on." And it sounds like Goffard's research gave them a lot of material to work with. As Cunningham said at the TCAs, "Any road I wanted to go down there was probably 500 pages of stuff to read related to that. It's within that that we're going to play around."
Britton met Newell in preparation of the role, and she spoke about their time together during the aforementioned TCA panel. According to Variety, Britton said,
"We actually spent a good deal of time together and I really like her a lot, so it's been such a great experience for me, and new experience for me, to sit down and really get to ask her questions — get to ask the character that I play questions. It's a really unique privilege to experience. And also, it's helping to give so much insight into the story in a way that maybe we weren't able to experience in the podcast."
Can't wait to watch Britton bring it like only Britton can? Just know you're definitely not alone.