Here's Where The Victoria's Secret Museum Is Located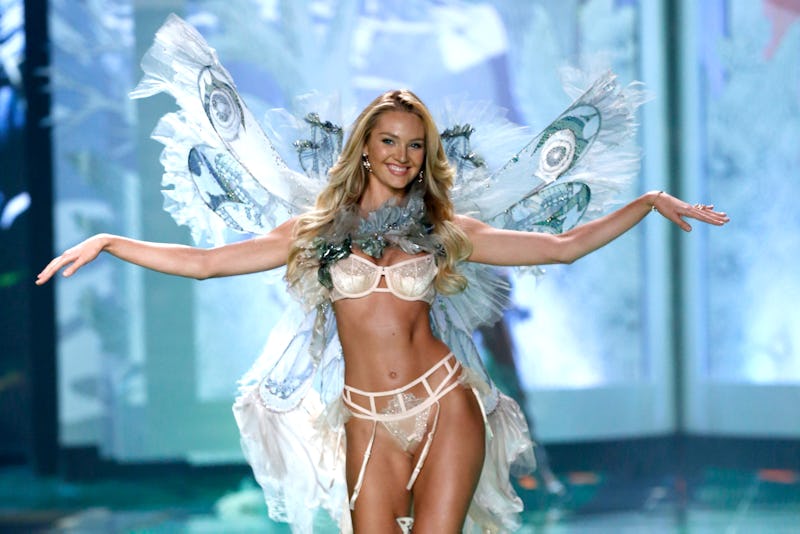 Tristan Fewings/Getty Images Entertainment/Getty Images
Every year, the Angels hit the stage for the Victoria's Secret Fashion Show. The models might bring the outfits to life, but it's time we give the sartorial creations the attention that they deserve. All the super fans out there will be happy to know that there is now a Victoria's Secret museum. Think: an up close and personal look at all of the best outfits. Where is the museum, you ask? There's only one location too see these iconic looks, so get ready to book your flight.
Over the years, Victoria's Secret has had some pretty creative outfits walk the runway. There's been everything from Bella Hadid's off-the-shoulder robe on the conventional side to over-the-top sets of wings. Oh, and of course the $3 million Fantasy Bra. All of which you'll be able to see IRL at the museum. Titled Victoria's Secret: A Retrospective, the exhibit doesn't have every outfit ever worn, but it does feature some incredible ones.
According to Metro, the Victoria's Secret Museum is located inside their New York-based flagship store. The address is 640 5th Avenue, New York, New York 10019.
As of May 16, there's no word on whether this will be a permanent exhibit or a limited time event. Bustle reached out to Victoria's Secret to get all the deets.
There's more than just outfits available to see at the museum too. According to Teen Vogue, the poster that was signed by every single model to walk the VSFS runway is there as well. Basically, this is the history of fashion show all in one place. Who knew that there was a museum out there that you'd actually want to see?
According to Footwear News, most of the outfits are from the 2016 VSFS. That's everything from the outfits to the accessories. It's like reliving the "sexiest day of the year" over and over again. The only thing better than this would be to actually try on the outfits.
I'd say that's enough to plan a trip to New York, if you ask me. So what are you waiting for? Get those plans in order, because a museum this good won't be around forever.