You Can Own The "We Call B.S." Pin Ariana Grande & Miley Cyrus Wore To Protest Gun Violence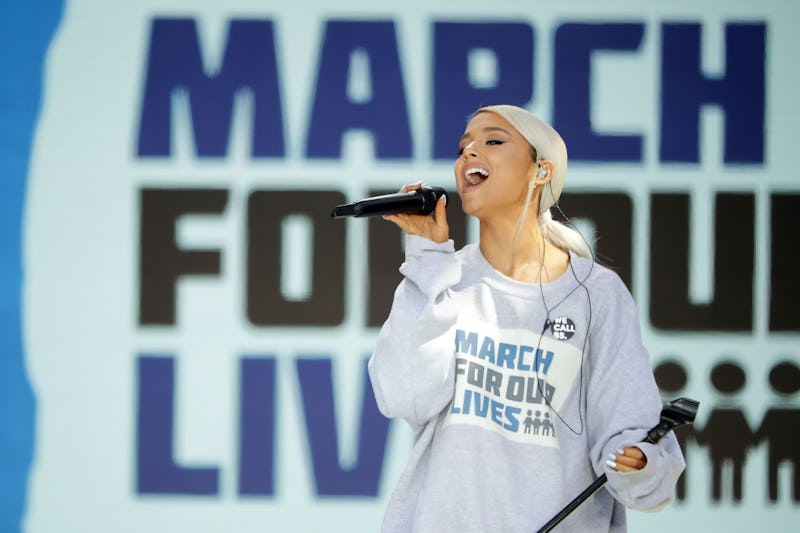 Chip Somodevilla/Getty Images News/Getty Images
When it comes to revolution, fashion plays an important role. While people's voices are without a doubt the most important part of any march, what people wear can sometime say just as much. Pincause created a charitable "We Call B.S." Pin that has already been worn by Ariana Grande, Miley Cyrus, and countless other marchers. Unlike other celebrity accessories, this pin is readily available and is super affordable.
Pincause's "We Call B.S." pin is much more than just an accessory. It's a way to give back and keep the conversation on gun violence going. All that for just $5, with $2 going towards March For Our Lives.
The tiny little black pin with white writing is straight to the point and easy to read. It's inspired by Stoneman Douglas High School student Emma Gonzalez, who used the phrase in her national speech.
"We were honored to join the March for Our Lives in Washington, D.C.," said Kate Lind, Pincause co-founder, in a press release. "These students are using their voices in a way we haven't heard before on this issue, and it is the most powerful tool they have. We want to do anything in our power to support them."
The pin is still in stock on the Pincause website, as of Mar. 28. It's 1.75" and made in Cleveland, Ohio. You can buy one for $5 or bundle a bunch to give out to all of your friends. Pins are available in the set for three for $12, 10 for $35, or 50 for $175. No matter how you shop, $2 of each pin will go to March For Our Lives.
Pins — just like the ones from marchers that took on civil rights and suffrage — are back and in full swing. The phrase "all good trends come back again" might be true, but this is much more than that. It's about saying it all without saying a thing.
This particular pin was seen all over at March For Our Lives. According to the website, Ariana Grande, Miley Cyrus, Emma Gonzales, and David Hogg wore the pin to the march on Mar. 24. Of course, the pins were seen on the streets and not just the stage. There were plenty of other who donned the accessory as well.
There are plenty of other protest pins available on the website as well. The website currently offers 12 different pins for March For Our Lives. There's a red, white, and blue "We Call B.S." pin on the website, a handful of #enough designs, and one that reads "hear our voice."
You can even get the exact pin that Emma Watson wore to the Women's March. The pin features the sign for the phrase "I Love You" in different colors. Just like the others, this pin is $5, but money will go towards ACLU and Planned Parenthood instead. You can see exactly where the two charitable dollars go on the product description on the website.
If $5 is a little too high for your liking, there are even more affordable options on the website. There are mini pins available on the website for $3 as well. The only catch is that only $1 from every pin goes towards the cause.
It's worth noting that the pins are not in collaboration with the official marches or the organizations that the money goes towards. It's simply a donation from the brand Pincause per purchase. Either way, this is a great options to give back and spread the word on gun violence.
Just like the fight to end gun violence, this pin is not limited edition. While certain styles are temporarily out of stock, they will be back. Because spreading awareness is not a fad and it looks great with every outfit.