Ben & Jerry's Latest Flavor Has The 'Largest Chunks' Of Any Of Their Ice Creams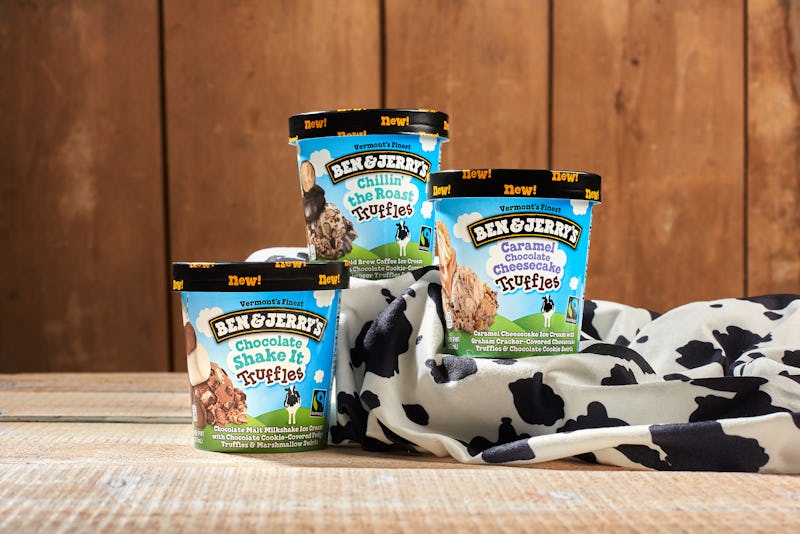 Ben & Jerry's Homemade Inc.
Polish your favorite ice cream bowl and make room in the freezer. There are treats coming all the way from our favorite creamery in Vermont to nest in your local grocery's frozen food aisle. Ben & Jerry's has released new truffle pints and you're going to want to stock up after you hear what flavors we're dealing with. That is, if the word "truffle" didn't already inspire you to add Ben & Jerry's ice cream to the top of your grocery list.
Some people might think that winter might not seem like the right ~season~ to make routine ice cream hauls. However, in my humble opinion, all seasons are appropriate for ice cream. The treat is not reserved solely for sweltering summer nights. It's a treat that can take residency in my freezer year round, whether outside temperatures drop to below freezing or become scorching enough to fry an egg on pavement. The announcement of these new flavors just weeks into January is welcomed news for dairy enthusiasts nationwide.
The new truffle flavors will be in stores within the next few weeks. Let the only hunting you do for truffles be in the frozen food aisle of your grocery store and the only shoveling you have to endure this winter be of ice cream into your mouth.
Three new truffles ice cream variations have been bestowed upon us. Move that frozen lasagne over because there's an ice cream haul coming and it's coming for your freezer. Delish.com spoke with Craig Koskiniemi, Ben & Jerry's Flavor Guru and Principal Food Scientist — because that is apparently a real job title that we should all consider getting a graduate degree to work towards — who told them that the truffles are, "among the largest chunks we have." Get your shovels, I mean, spoons ready. It's time to go digging in a few pints.
Amongst the truffles flavors are Caramel Chocolate Cheesecake, Chillin' The Roast, and Chocolate Shake It. They all sound like they need to considered crucial when scripting a weekly grocery list, but, to be honest, you had me at cheesecake. Delish reports that the Caramel Chocolate Cheesecake, "starts with a caramel cheesecake ice cream base, then adds graham-cracker covered cheesecake truffles and chocolate cookie swirls." Its conception was inspired by the success of other cheesecake-ice cream pairings. And everybody is already shipping this dessert couple since it's already rocking a five-star rating on Ben & Jerry's official website.
Ben & Jerry's lists Chillin' The Roast as, "Cold Brew Coffee Ice Cream with Chocolate Cookie-Covered Coffee Liqueur Truffles & Fudge Swirls" and it looks so loaded with truffles and swirls that it resembles a cheetah pattern. This followed by the Chocolate Shake It flavor which is described as, "Chocolate Malt Milkshake Ice Cream with Chocolate Cookie-Covered Fudge Truffles & Marshmallow Swirls." Do you think it's weird if I started waiting outside my grocery store for the release of these new flavors? I've never seen anybody camp out for an ice cream release like they're Hamilton tickets but I am not above it.
Food & Wine had the very tough task of taste testing the new flavors and dutifully report that, "the truffles remain soft and chewy in the mix, adding another dig-able element to root for in your pint." It seems that even though Ben & Jerry's already has an impressive library of flavors, these new additions stand out on their own. If you're filling your keyboard with drool, don't worry, you'll be able to wedge your spoon into a pint or two in the next few weeks when the flavors become available nationwide.