Ocado Is Selling Candy Crush Ice Cream & These Flavours Are As Sweet As Your Score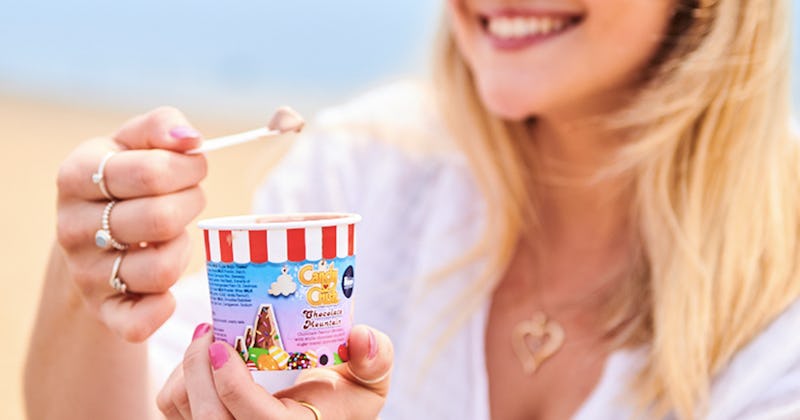 Candy Crush/Rossi
Everyone has thought about it at one time or another, some have even longingly dreamed about it. What would it be like if Candy Crush was a reality? Would it be like the scene in Charlie And The Chocolate Factory, where the lucky golden ticket winners are mesmerised by the IRL magic of Willy Wonka's creation? Well, the wait is over, because now you no longer have to imagine how amazing it would be to have Candy Crush brighten up your day, as you can now buy your very own Candy Crush ice cream. If you're wondering where to buy Candy Crush ice cream, read on.
Prayers everywhere have been answered by King, the makers of Candy Crush, and British ice-cream specialists Rossi, who are teaming up to bring three amazing different flavours of Candy Crush themed ice-cream to our supermarket freezers this summer. And, the proverbial cherry on top, is that you don't even have to endure an agonising wait for what will become your new fave summer treat as the product will be available from online retailer Ocado straight away, and lucky people in Chelmsford will be able to grab a tub from select local stores. According to the official website, you can currently find it stocked at Chelmsford Star Co-Op and East of England Co-Op, as well as NISA and Premier stores in the Essex area. Can life get any better?
Well, yes, actually, it can. One of the reasons that Candy Crush is so beloved is because of the incredibly cute characters and bright and cheerful animation style that make the game so fun to play. Rossi and King have incorporated these aspects into the ice-cream, which will be instantly recognisable, with both packaging and flavour names based around the much loved locations, characters, and colourful treats from the game.
The flavours sound irresistible and promise to be as attractive as Candy Crush itself. Bubblegum Surprise will comprise of a pink bubblegum flavoured ice-cream, with not only rainbow sprinkles, but also popping candy. There is also Chocolate Mountain, a creamy chocolate ice-cream with white choc chunks and chocolate beans. The sign of a good chocolate ice-cream is always measured by how many times the word chocolate is needed to describe it, so judging by this beauty, it's going straight on shopping lists. And finally, Marshmallow Delight, which Rossi describe as a vanilla ice-cream full of raspberry marshmallows, chocolate chunks, and rainbow sprinkles. Yum.
Rossi have said that the Candy Crush ice-cream will be available in a personal 100ml size with a little spoon so you can enjoy straight away. But for those who do not want to share, there will also be a 500ml tub. The RRP for the small tub is only £1.99 and the larger one is £3.99, so it's pretty reasonable considering it's essentially a dream product. The packaging is set to be super cute, and thus super Instagrammable, and will feature Yeti, Tiffi, and the cheeky Bubblegum Troll.
Senior Brand Director at King, Melanie Caitling, said via a press statement that the company are "delighted with this new partnership with Rossi Ice Cream. Candy Crush is a global phenomenon and has always been praised for its fun, vibrant graphics, cute characters, and backgrounds." Caitling went on to confirm every player's dream by adding "Candy Crush Saga gives you the sweetest feeling when you play and we wanted to give that same feeling with a spoonful of ice-cream!"
Charlie Bird, the Sales Director at Rossi, said that the ice-cream company "have totally crushed it" in terms of getting the flavours exactly right and creating an amazing treat based on such a "wondrous, imaginative world." Sounds too good to be true, but thankfully, it isn't. The only thing left to decide is which flavour to start with, but considering the game has millions of fans, you better act fast.