If You Wear Makeup To Work Out, You Need These Products In Your Gym Bag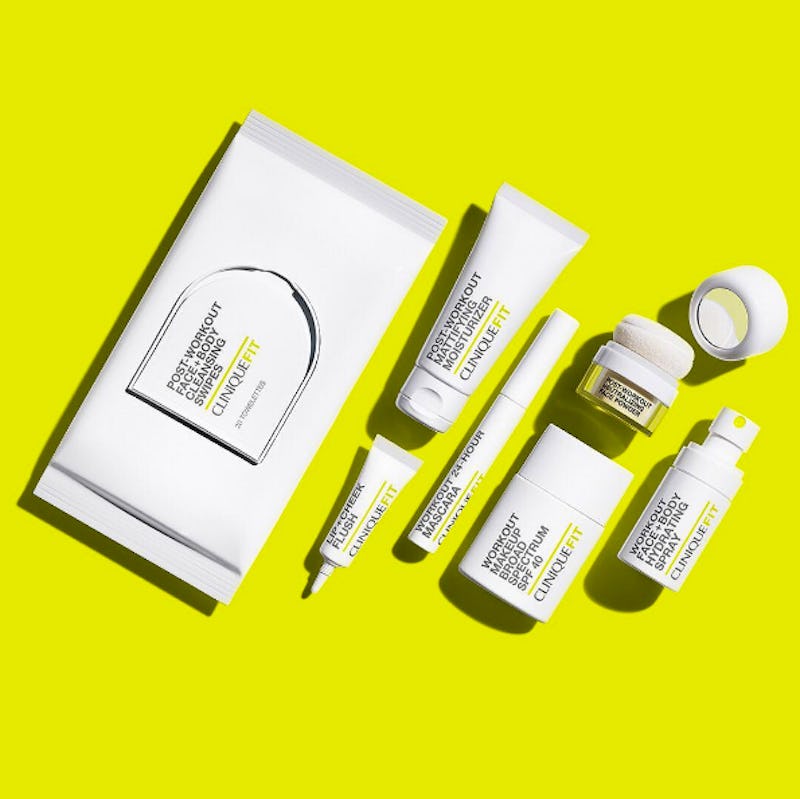 Even if dermatologists don't always recommend it, let's be real — there are always going to be people who like working out in makeup. There's lots of mixed advice from experts out there about whether or not it's bad for your skin, but again, let's be real — not everyone is going to heed that advice. Whether you just want to bulk up your light lashes with a swipe of mascara or you wear a full-face of makeup, you're probably looking for makeup products you can wear to the gym without feeling guilty. Well that's where Clinique FIT comes in.
The new line from makeup and skin care giant Clinique is designed to actually be worn during a workout, and it's pretty much the best thing ever if you work out regularly in makeup but still want to take care of your skin.
The collection includes a foundation, lip and cheek tint, mascara, and hydrating spray you can use while working out as well as post-workout cleansing wipes, mattifying moisturizing, and neutralizing face powder.
Clinique announced the new collection on Instagram with the tagline "Life's a marathon. Look good running it," and also branded the products as "high-performance skin care and makeup essentials for your highly active life." Sounds about perfect, right?
So where can you buy the Clinique FIT line? It's available exclusively on the Clinique website and at Ulta.
All of the products in the line are designed to be lightweight, sweat-proof, and long-lasting, and they won't cause breakouts or clog your pores.
Clinique FIT Workout Makeup Broad Spectrum SPF 40, $29, Clinique
The foundation in the collection even comes with SPF 40, so it's providing much-needed sun protection (something some people tend to forget when they're going out for a run or hike).
Clinique FIT Lip + Cheek Flush, $23, Clinique
If you like working out with a little color on your lips and cheeks, the lip and cheek flush will give you a nice hint of healthy color.
Clinique FIT Post-Workout Neutralizing Face Powder, $29, Clinique
For after your workout, you can cleanse with the easy-to-use cleansing wipes, swipe on some mattifying moisturizer and neutralize redness with this color-correcting powder, which will also suck up oil.
It looks like this collection is one that's made for your gym bag (and beyond).