Coldplay Just Saved Christmas With An Announcement That'll Have Stans Rejoicing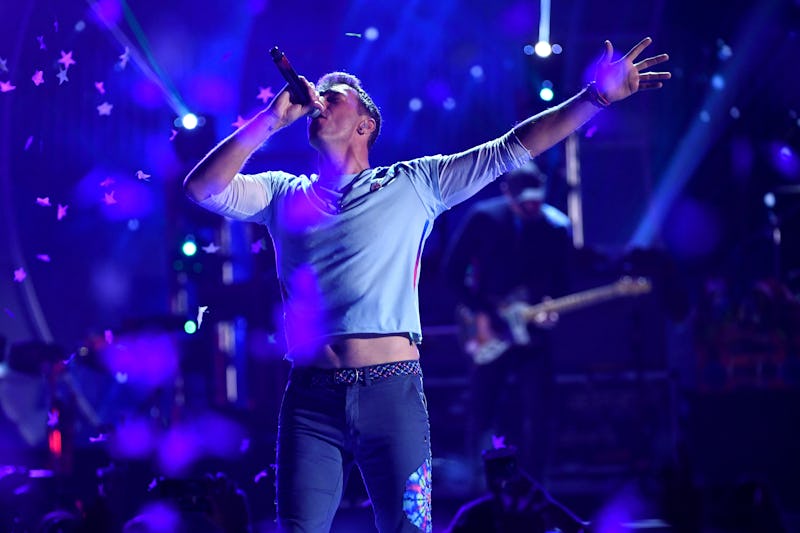 Kevin Winter/Getty Images Entertainment/Getty Images
Coldplay fans rejoice: an album rounding up their recent tour will be out in time for Christmas, and the band are said to be working on new music. Fresh from a slight hiatus, Chris Martin, Guy Berryman, Will Champion and Jonny Buckland will reportedly be back in the studio for 2019. But before we get excited about that, let's discuss the upcoming live album that's sure to go to the top of your Christmas list. Keep reading to find out where to buy Coldplay's The Butterfly Package, as well as news on a potential new record.
Back in October, Coldplay announced they would be releasing a new live album and concert film (filmed in Buenos Aires and São Paulo, respectively) in time for Christmas. The material will mark the final end of their A Head Full Of Dreams tour, which started back in 2016. The live album will be comprised of 24 tracks from the band's show in Buenos Aires, the Argentinian capital. Combined with the concert film, which was taken in São Paulo, the two make up "The Butterfly Package," which is available for pre-order now via a dedicated webpage and will officially be released on 7 December 2018.
Fans have a number of buying options, as the package comes in a four disc set or in vinyl. Along with the music, merch will also be available, including t-shirts, hoodies, and mugs. You will also be able to stream and download the live album on several platforms, although the film will only be available to download.
As well as this exciting package, fans can also watch the new documentary film A Head Full Of Dreams on Amazon Prime now, which was directed by Mat Whitecross. The film follows Coldplay closely on tour and features never-seen-before footage.
Interestingly, Whitecross recently spoke to NME to reveal Coldplay could be set to work on new music in 2019.
Asked if he knew whether Coldplay were working on new material, Whitecross responded: "I've heard a few things and filmed a few bits of them talking about it, but I don't think I'm allowed to share anything. It's interesting They always want to be challenging themselves and surprising other people... I'm sure whatever they do next will surprise people."
"They do have plans for next year however I've not been party to them," he finished.
Whitecross confirmed that this year the band has been taking time off to re-coup after their extensive A Head Full Of Dreams tour.
Despite taking the year off however, it seems Coldplay are thriving following their most recent work as yesterday it was confirmed by Forbes magazine that they were second in the 'World's Highest-Paid Musicians 2018' list, making $115.5 million and only second to U2, who made $118 million. Woah.
The article by Forbes also revealed that Coldplay's A Head Full Of Dreams tour grossed more than half a billion dollars over its two-year run that saw the band visit all five continents.
Lend me a tenner will you, Chris Martin?