Dad Sneaker Wedges Exist & They Actually Are Really Freakin' Cool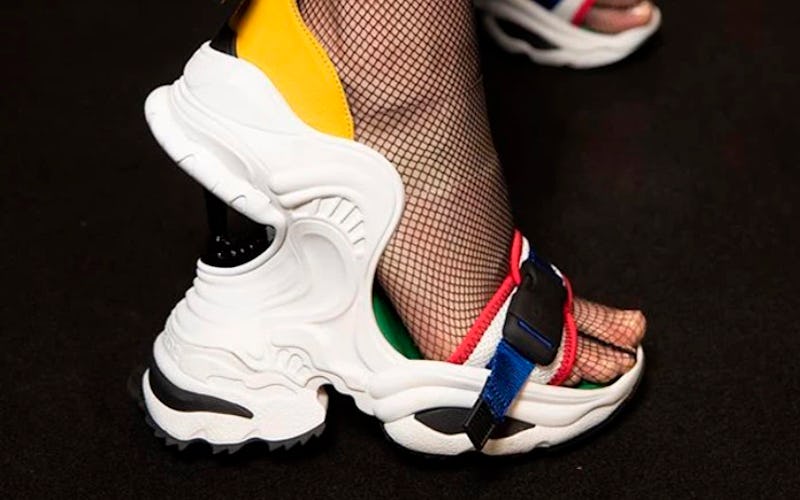 DSquared2 Instagram
Fashion is all about pushing the boundaries and reinventing the expected, which makes the existence of dad sneaker wedges no surprise. That was the only logical next step. Now that we're all used to our dad's favorite sneakers gracing the feet of everyone from A-list celebrities to style lovers sitting next to us on the train, it's time to up the ante and shock once again.
DSquared2 debuted the look at their Milan Men's Fashion Week show on June 19, pushing the boundaries of athleisure. Their Spring Summer 2019 collection that marched down the runway was a mix of military, sporty, and crossing-guard vibes, moving effortlessly from canvas jackets and pocket-heavy cargo pants, to destructured 1800s corsets hanging loosely over ribbed tank tops and parachute pants, to airport baggage handler vests made chic.
Seeing how experimental the runway show was, it was no surprise that the designers decided to take the dad shoe and push it to its limits. The multi-color, vaguely-Transformer-esque shoe fit right into the color-blocked-streetstyle-meets-militia aesthetic of the rest of the collection.
The wedges in question are called "The Giant Heels," where the Italian label described them as "fluorescent trimmed sandals." They took the chunky platform of a dad shoe, and raised it to nearly a 90 degree angle, strapping the foot in with velcro straps and plastic buckles, and adding in an ankle strap to make sure that walking doesn't turn into a hazard. With blue, red, and yellow piping, it takes on an athletic air, and contrasts against all the olive green and khaki that walked down the runway.
"The Giant Heels" were meant to be a spin-off from the new sneakers they debuted during the show, which looked like '90s running shoes on steroids. In the best way possible. Dubbed "The Giant," the shoe was a kaleidoscope of primary colors, and had a raised back for ultimate chunkiness and an elongated tongue to make it feel more retro.
Bustle has reached out to DSquared2 to see if these will be available at their stores and online, and are waiting back for an answer.
Vogue menswear critic Luke Leitch, who sat front row at the show, believes the style is a satirical take on how far fashion will take this "fugly shoe" trend, single-handedly pushing the fad up to its breaking point.
But if you're wondering why designers dally with ugly-chic looks to begin with, the answer is simple: it's fun. Making beautiful clothes is arguably easier, but challenging society with what it thinks is ugly and turning it into something intriguing is much more interesting as a creative.
Balenciaga creative director Demna Gvasalia, who brought us the t-shirt-pinned-to-a-shirt hybrid, explained to Vogue how ugliness drives him. "I think it's very interesting, the definition of ugly," he said. "I think it's also very interesting to find this line where ugly becomes beautiful or where beautiful becomes ugly. That's a challenge I like. I think that's a part of what fashion stands for and I like that people think my clothes are ugly; I think it's a compliment."
Back in 2013, Miuccia Prada, who is the mother of the ugly-chic movement, shared the same sentiment. "Ugly is attractive, ugly is exciting. Maybe because it is newer," she explained to the Telegraph. "The investigation of ugliness is, to me, more interesting than the bourgeois idea of beauty. And why? Because ugly is human."
Playing with ugly trends allows designers to push outside of the box and experiment with new looks. And they often turn into staple wardrobe pieces after people have had some time to process them, like fanny packs and mom jeans did.
Whether you love it or hate it, it looks like the ugly-chic trend is here to stay — and its new leader just might be the dad shoe wedge. Whether we like it or not.