Gigi Hadid's MTV Sweatshirt Recreates Everything You Loved About The '90s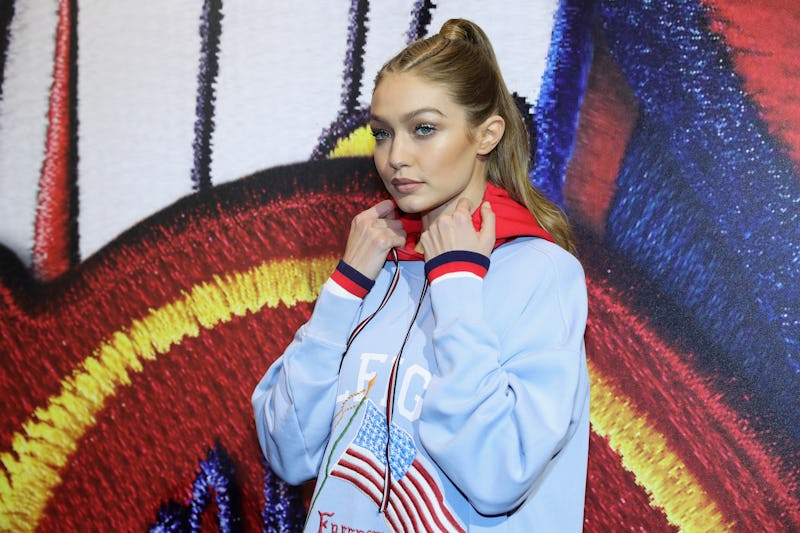 Vittorio Zunino Celotto/Getty Images Entertainment/Getty Images
As if you weren't already all sorts of nostalgic for the 1990s, this model's latest look will certainly have you missing the better parts of the decade. Gigi Hadid's MTV sweatshirt will make you wish you could transport yourself back to the '90s because seriously — the music channel was a major part of what made the era so great, am I right?
Hadid's sweatshirt is available for purchase from Marc Jacobs, but it'll cost you a pretty penny to own it. It's going for $1,400, so if you want a fashionable relic in your closet, you're definitely going to have to save up for it. This item is only part of a capsule collection created by MTV and Marc Jacobs, and lucky for you, every piece in the line isn't quite that expensive.
There are tees ranging fro $150-$195 as well as totes going for $105, just in case that's better for your budget. According to the Marc Jacobs website, this is a limited edition line, so you're going to want to get your hands on it while you can. Once you own a piece of this '90s-inspired magic, you can feel free to style it exactly like Hadid, tiny round glasses and all. That way, you'll look like the true '90s kid you are.
Throwback chic, ladies and gents.
MTV X Marc Jacobs Long-Sleeve Crew Neck Sweatshirt, $1,400, Marc Jacobs
This sparkly retro piece will cost quite a bit of money, but hey, it's not cheap to dress like Hadid.
The sparkly zebra print is everything. It's definitely an upgrade from your Lisa Frank binder, you know?
MTV X Marc Jacobs Unisex Tee, $150, Marc Jacobs
Just in case a number with four digits is a little outside of what you're willing to pay, you can also shop a tee that's a bit more affordable, but just as cool.
If you were watching MTV in the '90s, you were definitely living your best life.
The music videos may not make a comeback, but the fashion certainly can!
In fact, the more of this decade you can incorporate into your wardrobe, the better.
Who knew the height of 1990s fashion would come in 2017? I don't think we could have predicted that, but I'm definitely here for it.
The next time you rock a throwback style, channel your inner Hadid. Because this model is showcasing everything that was great about the '90s.