Hogwarts-Themed Combats Boots Now Exist & Here's How Harry Potter Fans Can Buy Them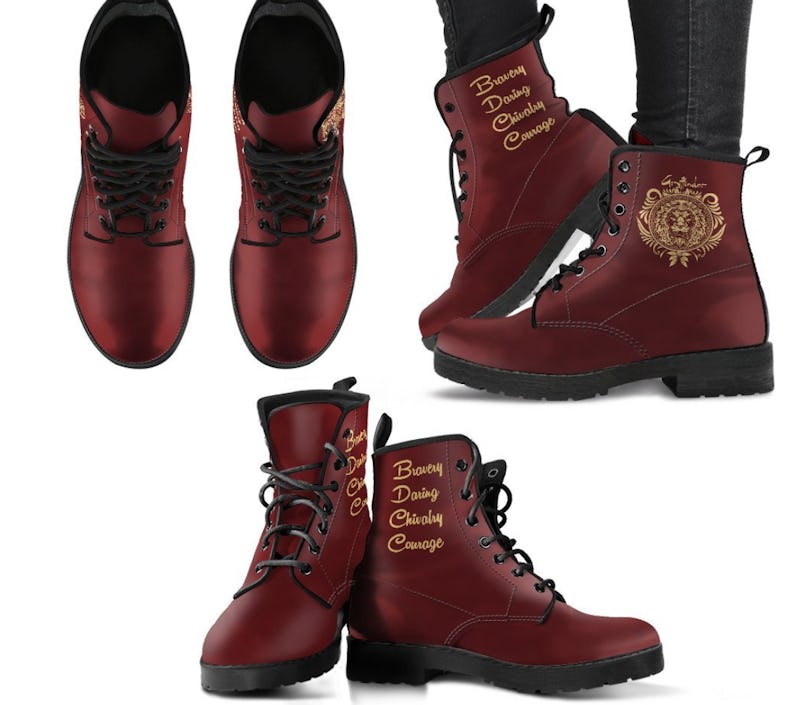 Courtesy of Ineffable Shop
Calling all aspiring wizards. There is some seriously fantastical footwear in your future and it even includes Hogwarts heels. Harry Potter-themed combat boots exist, as do sneakers, stilettos, and tote bags. The inspiration is legit AF, since the shoes, sold via IneffableShop.com, represent each of the Hogwarts Houses. The fall-ready boots are the color of the respective houses and include both the crest and the qualities that each house embodies embroidered in gold. Are you shaking and crying (in your boots)? You should be, because this is almost too much awesome to process.
Here's the complete breakdown of the Harry Potter combat boots. The Gryffindor House boots are burgundy and tout Bravery, Daring, Chivalry, and Courage. The Slytherin House boots are forest green and celebrate Cunning, Ambitious, Determined, and Leadership. The Ravenclaw House boots are navy blue and nod to Intelligence, Wisdom, Creativity, and Originality. Lastly, the Hufflepuff House boots are black and praise Loyalty, Kindness, Honesty, and Friednship.
The sturdy but stylish boots are available for a limited time — RIGHT NOW!!— and they are going fast. So if you are a Harry Potter obsessive, get to it and don't delay. The boots boast a $79 price tag, are made of eco-friendly leather and feature double-sided print and rounded toes. They lace up for a snug fit, as well.
Harry Potter Women's Leather Boots - Hogwarts House, $79, Ineffable Shop
The boots are also custom-made and printed on demand, per the description on the Ineffable Shop site. While all sales are final, you should take care to order the right size by measuring your foot from the toe to the back of the heel. The brand does offer free replacements if you are unhappy with the fit of the boot.
There is a handy dandy sizing chart on the site, as well, so be sure and consult that. You are going to want to rock these boots right away and won't want to hold off because you somehow bungled your shoe size and need to await the arrival of another pair.
Harry Potter Women's Leather Boots - Hogwarts House, $79, Ineffable Shop
While there aren't any further Harry Potter films on the horizon, you can still display your love for the characters, the story, and the franchise with this footwear. Several of the boots will add a punchy pop of color to any ensemble.
Harry Potter Women's Leather Boots - Hogwarts House, $79, Ineffable Shop
The eight-hole boots rise slightly above the ankle, so you can tuck skinny jeans and leggings into 'em or pair them with a babydoll dress for a decidedly '90s flair. The Harry Potter combat boots avail themselves of so man styling options.
Harry Potter Women's Leather Boots - Hogwarts House, $79, Ineffable Shop
These boots are made for walking and talking. No, seriously! This is ice-breaking, conversation-starting footwear. If you strut into a room while wearing these, someone will stop you and ask about the logos and/or the phrases. How could they not?! So prepare to field questions about what your shoes say and once you reveal the Harry Potter origins, you can also expect "Where did you get them?" inquiries.
Marauder's Map Women's Premium High Heels, $70, Ineffable Shop
Now, about those Hogwarts heels? These stilettos are also Harry Potter-inspired and could veritably be the foundation of an entire Harry Potter-themed wedding ensemble. The toe detail and the etchings on the material are so vintage, lived-in, and lifelike. Ditch basic heels in favor of something equally as conversation-starting as the combat boots. These skyscrapers will set you back by $69.99.
After All This Time? Always - Women's Running Shoes, $69, Ineffable Shop
Ineffable Shop serves up plenty of Harry Potter styles, including athleisure, to an incredibly passionate fanbase. These runnings shoes are $69.
House Totes, $49, Ineffable Shop
There are matching totes for each of the Hogwart House-themed combat boots, as well. If you are all about smart and coordinated accessorizing, then you needn't look any further than this site. The Harry Potter legion should be more than sartorially satisfied by all of these shoes and more.