High Heeled Crocs Now Exist & The Wedges Are Actually Cute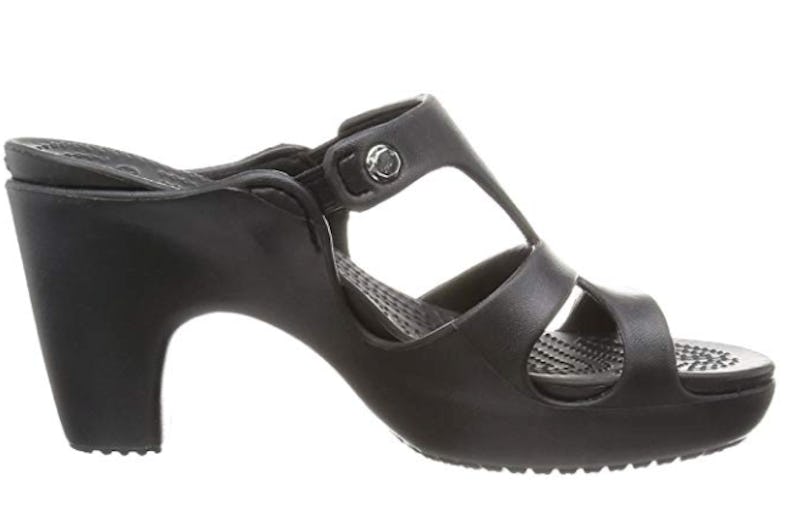 There are few shoes that are more iconic than Crocs. The shoes are most known for their comfort, but they pack some serious style too. As Cosmopolitan found, high-heeled Crocs are actually a thing. While not all of them will land on your must-haves list, the wedges will actually get you pretty excited. Style and comfort? You really can have it all.
The slogan for the brand is "come as you are," and stylish is included. You might be used to seeing the slide-ons, but there is a whole world of Crocs out that that you haven't explored yet. It turns out that the shoe company makes everything from high heels and wedges to chunky-heeled sandals as well.
Before you roll your eye too hard into the back of your head, you should know that some of them are actually cute. At first glance, you might not even realize that these are Crocs. There are, of course, some very distinct styles, too.
As Cosmopolitan points out, the high-heeled Crocs are, well, very clearly from the brand. They feature the same materials that the slip-ons do and even have the same two-toned, textured base. All of that style will cost you a cool $80 on Amazon, as the publication points out.
The high heel comes in three different colors: platinum on platinum, black on black, and orchid on platinum. Believe it or not, people are actually loving this shoe. The style has a four-star review on Amazon, with tons of five-star comments. One customer even liked the pair so much that he or she bought another one.
"I love these freakin' shoes," one review reads. "They're so comfy and cheap and stylish enough for casual outfits. Highly recommend. (do wish the crocs logo didn't exist though. pretty much the only reason I knocked off a star.)"
If, like the above user, you would rather your friends not know that they are from the brand, there are tons of other heeled styles of Crocs for you. The brand mades wedges and heeled sandals as well that are actually cute. Here are some of the styles, so you can see for yourself.
1. Chunky Heeled Sandals
2. Printed Wedges
3. Slightly Smaller Heel
4. Strap Wedges
5. Floral-Print Sandals
Did you ever think you'd see the day when Crocs has this much style? Well, apparently it was right under your nose all along. With so much style and comfort all rolled into one, this might just your new go-to brand. After all, it beats the heck out of wearing those super high, $850 Balenciaga ones.