The DIFF x Jesse James Decker Aviator Collection Is Back In Stock, So Act Fast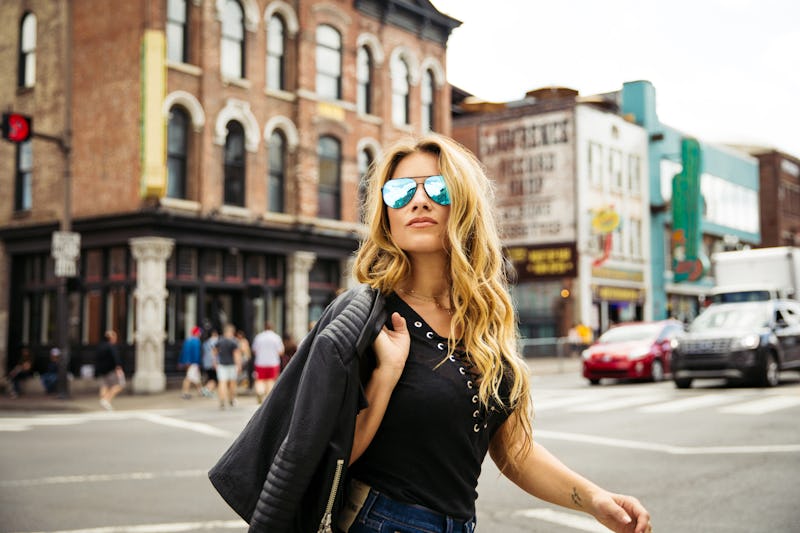 Courtesy of DIFF Eyewear
If you're a fan of singer/songwriter/reality TV star Jessie James Decker, chances are good you also know that the star has some serious business chops. The latest project JJD has added to her growing list of products? A collection of DIFF x Jessie James Decker aviators, which embody the singer's laid-back country style.
One of JJD's 2017 projects is this eyewear collab, which she released just a few months ago. And, as is now the norm with JJD, the collection sold out almost immediately. Luckily DIFF restocked the collection, which means you can purchase the oversized mirrored aviators once again. So where can you buy JJD x DIFF? The collection is available exclusively on the DIFF Eyewear website, but if past perfomances are any indication, it'll probably sell out once again very soon.
The collection includes four shades of oversized aviators: pink, blue, gold and classic black. And the best part? You don't have to feel too guilty about purchasing more than one pair, because DIFF will donate a pair of glasses or sunglasses to someone in need through its partnership with Restoring Vision for every pair of JJD sunglasses her fans purchase. Sounds like a pretty great deal, right? And even if you're not a huge fan of JJD yet (in which case, why not?), you'll still go crazy for these classic oversized aviators.
Here's Decker wearing the gold gradient aviators, which have a gradient effect and a lighter gold frame on them.
And here's the blue pair from the collection, which are a fun spin on neutral classic aviators.
The pink pair from Decker's collection easily could've looked campy, but the color is muted enough that you can definitely rock this look on an everyday basis.
Finally, the classic black aviators are the most popular item in JJD's collection. They're definitely a go-with-everything style, and fans are snapping them up as quickly as DIFF can restock them.
Plus, how great does Decker look rocking the shades in this Instagram promo video? They're the perfect mix of classic and rock-n-roll, which is pretty typically for JJD's style. And according to her Instagram caption, this collection is definitely limited edition, and in no time it'll be "gone for good." So if you're a fan of this style, definitely grab a pair while you still can.
As is the case with most of JJD's collabs, the DIFF collection won't break the bank. Each pair of sunglasses retails for $85, which isn't bad for a high quality pair of sunglasses that also helps do good with every purchase.
Dash Gold Frame Gold Gradient Mirror Sunglasses, $85, diffeyewear.com
The gold pair goes perfectly with neutral tones that are about to take over everyone's fall wardrobes.
Dash Gold Frame Pink Mirror Lens Sunglasses, $85, diffeyewear.com
There's something so fun about this girly pink pair, which will add a pop of color to any outfit.
Dash Matte Black Frame Blue Mirror Lens Sunglasses, $85, diffeyewear.com
There's something about blue mirror sunglasses that's so classic, and this pair doesn't disappoint.
Dash Matte Black Frame Grey Lens Sunglasses, $85, diffeyewear.com
Unfortunately for fans of this black and grey style, it's already sold out (told you this collection is popular). Fingers crossed DIFF restocks this classic and versatile pair.
The other three pairs in JJD's collection are still available on the DIFF eyewear website, but they'll sell out fast. But if you don't snag a pair before they sell out, there's still plenty of ways to copy JJD's style. From a JJD curling iron to her collabs on a lip kit and eyeshadow palette with Alexa Persico Cosmetics to her Kittenish clothing line, Decker is quite the entrepreneur.