Meghan Markle's Fave Jeans Are FINALLY Back In Stock After Being Sold Out Since March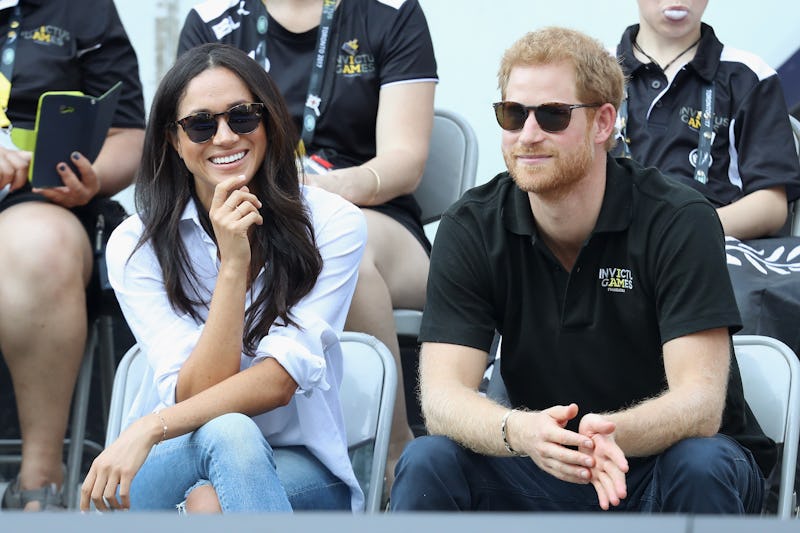 Chris Jackson/Getty Images Entertainment/Getty Images
Sure, everyone lost it over Meghan Markle's wedding dress and her Burberry coat and her pearl earrings. Now, though, there's a more casual piece of the duchess's wardrobe that you can pick up. Meghan Markle's Mother jeans that she wore to the Invictus Games are officially back in stock, but knowing royal style lovers, this denim may not last for long.
Last year, Markle made her first appearance with Prince Harry at the Invictus Games. Before she was officially the Duchess of Sussex, she was just Meghan Markle, and her casual, laid-back style is definitely a departure from the structured dresses fans have been seeing lately. To the event, the former Suits star work a minimal, white button up, flats, and sunnies along with the jeans from brand Mother, and honestly, it was the perfect "I'm trying but not really trying" look that everyone needs.
Now, you can get part of it. Mother has relaunched the Looker Ankle Fray in Love Gun globally. That's right. Markle fans worldwide can get their hands on these perfectly distressed, gorgeous wash jeans. The brand rolled out the denim today, June 26, and all you need to do is head to their website (probably ASAP since whatever Markle touches basically turns to gold) to shop.
Currently, the jeans retail for $228 and are available in sizes 0 (or 23) to size 14 (or size 32). If you've been coveting this denim since you saw Markle rock them, it's time to get shopping. According to the brand, the jeans have been viewed on their site over 98,000 times, and there was a 1000 percent increase in traffic to the page before the royal wedding in May. Clearly, people are looking for this jeans and finding them. In fact, the waitlist has had a 900 percent increase.
Why does all this matter? Because if the denim has been this popular while being unavailable, a global restock means that they're probably going to go. Fast.
As of press time, all sizes of the Mother Looker Ankle Fray are available, but it may not stay that way for long so go shopping now. In fact, according to Cosmopolitan, the first restock of the jeans sold out in three days.
Unfortunately, Mother does not sell the jeans in a size above a 14, so if you're plus, you'll need to find an alternative. Hopefully, Mother will expand their size range based on demand for this denim, but until then, don't worry. Other brands have great options you can wear to mimic Markle's style.
This pair of denim from ASOS comes in sizes 14-24, and while they aren't identical, they are extremely close to Markle's Mother jeans.
If you wear one of the sizes offered by Mother but just don't feel like dropping over $200 on a pair of jeans, ASOS also offers the same style as the plus version in straight sizing. At $48, they're a markedly cheaper option that will get you an incredibly similar look.
This isn't the first time that a brand has seen an exponetial increase in traffic due to Markle's style. When she and Prince Harry's engagement was first announced, the future Duchess of Sussex wore a gorgeous white wrap coat by Canadian brand Line the Label. According to WWD, the coat was so popular after Markle wore it that their website crashed throughout the day. Now, the brand has renamed the coat The Meghan due to what can only be described as the Markle effect.
If you want to be part of the Markle effect, head over to Mother's website now and scoop up those jeans. Remember, they may not last long, though.