Here's Where To Buy These Chubby Mermaid Brushes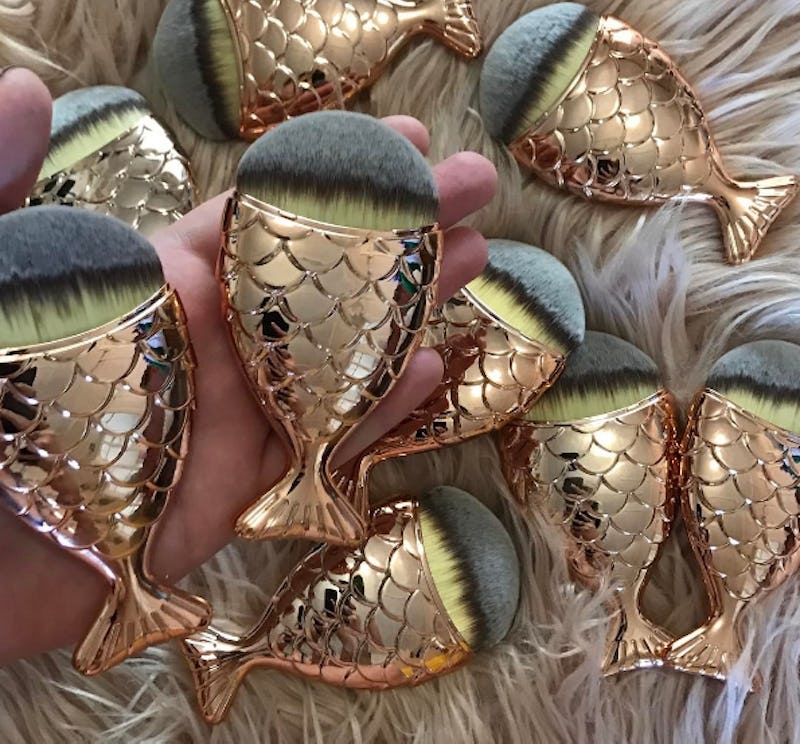 Nowadays, makeup brushes come in all shapes, designs, and sizes. From rose shaped brushes to positive affirmation brushes, there's a novelty for everyone. And today, we can add one more to the list: The Chubby Mermaid Brushes. And guys, they're as adorable as they sound.
You no longer have to use plain, plastic tools to dab on your highlighter or chisel away with your contour — you can jazz up your cosmetic experience by using something with a little more personality. And these little brushes have a lot of personality.
Click Here To Pre-Order Your Chubby Mermaid Brushes
They are "carve and contour brushes" that come in a long, flat shape that will help you chisel out your cheekbones with any contour kit. But the great thing is that the brushes can be used for a bevvy of different things. Mermaid Salon, the makers, point out that the vegan makeup brush was designed to be versatile, and can be used to apply powder foundation, blush, highlight, or contour.
While that's definitely good news, the appeal of the brush comes in its shape. They're literally chunky little fishies. Designed fat and stout, the short brushes have a thick line of bristles that will help define cheekbones and features. They come in three different colors, letting you choose a shade that fits most with your style: Either a matte black, silver, or rose gold.
Carve & Contour Paddle Brush, $16, Mermaid Salon
So where can you buy the Chubby Mermaid Brushes? You might not be able to pop into Sephora and get them, but you will be able to get them sent to your front door. Simply go to Mermaid Salon's site and pre-order the brush today. It's not available until the end of March 2017, so there will be a slight waiting period until you can have them in your hands.
It's also important to note that Mermaid Salon is an Australian brand, so the shipping might be pricey. To offset that, though, they're currently throwing in a free velvet matte lipstick with every order.
Carve & Contour Paddle Brush, $16, Mermaid Salon
According to the brand's Instagram they keep selling out of the brushes, so if you like them order them ASAP. You'll be disappointed if you don't hook one on the line!
Image: Mermaid Salon (1)