Rihanna's Lingerie Line Is Coming To The UK & This Is How To Make Sure It's Yours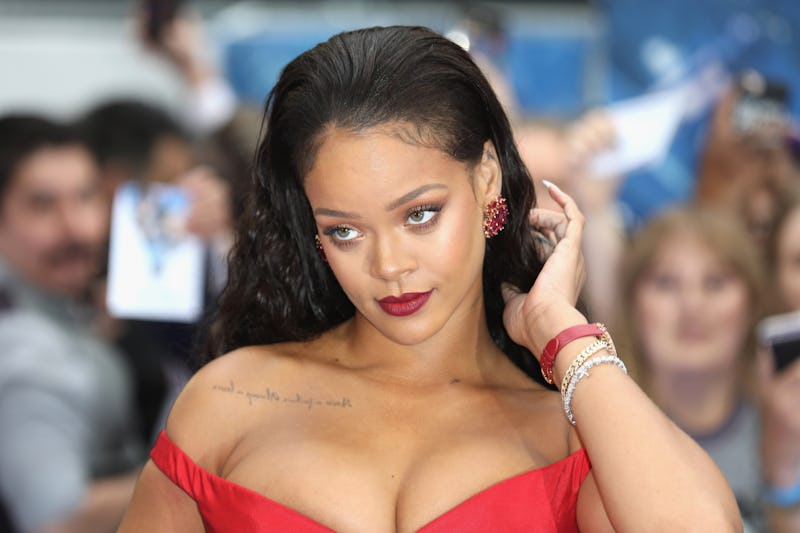 Tim P. Whitby/Getty Images Entertainment/Getty Images
Back in May, Rihanna caused a storm when she dropped a fully inclusive lingerie line. Models of all shapes, colours, and sizes modelled the 90-piece collection, sending RiRi fans wild. But it wasn't all good news for her UK fans. Customers in good old Great Britannia were subject to pesky shipping costs and customs duties. Not fair. However, Queen Rihanna clearly heard our prayers and read our tweets because she is now coming to the UK. So if you're wondering where to buy Rihanna's Savage x Fenty collection, I've got you covered.
From Wednesday June 13 until Sunday June 17, Shoreditch Studios will play host to a one-off Savage x Fenty pop-up shop. Although a lot of Rihanna's designs have now sold out online, Vogue reports that she has assured fans that almost everything will be on offer in store. This includes designs from the core "On The Reg" collection (which features bras and knickers in every shade under the sun) as well as a number of pieces from Savage x Fenty's more playful lines titled "Damn", "Black Widow", and "U Cute". Bra sizes will range from a 34A to 44DD, with other lingerie going from a size XS to 3XL. FYI, an even bigger size range is expected with future releases.
"I love seeing the reaction to Savage X Fenty in person, so having a pop-up shop is really exciting for me!" the 30-year-old told British Vogue. "I want women to feel great wearing lingerie. I want them to feel confident, sexy, flirty. But most of all, I want them to feel like themselves."
Fans are undoubtedly excited to be able to visit a Savage x Fenty store and walk away with some of Rihanna's racier designs which include corsets, marabou robes, and satin pyjama sets. Some are even predicting that Rihanna herself will pop down on June 13 before attending the UK premiere of her new film, Ocean's 8.
According to Rihanna, a lingerie line has been a long time coming. Speaking to the press at the launch of the collection in May, she said: "It was important to me that it be done right. It has to be authentic, it has to be me, from my perspective."
Here are some of the best bits to look out for at the five-day pop-up. And if you're not in London, don't panic. You can still buy everything online (with free shipping if you spend £75 or more).
So get on down to Shoreditch Studios next week for your Savage X Fenty fix. Who knows? Rihanna could very well make a surprise appearance behind the till.